Gary Locke says he is in talks to keep Greg Kiltie at Kilmarnock
Last updated on .From the section Football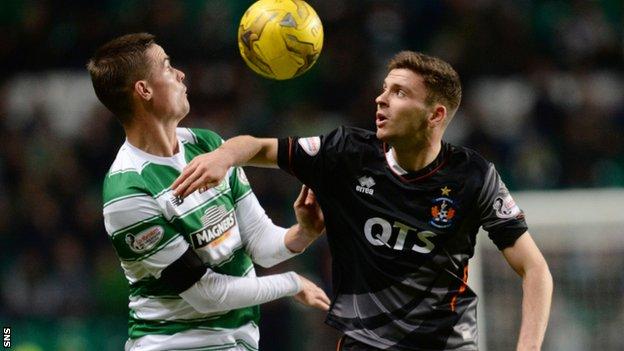 Kilmarnock manager Gary Locke has urged Greg Kiltie to delay a move south and pledge his future to the club.
The 18-year-old's contract is set to expire in January, but Locke wants him to continue his football education in Ayrshire.
"We've been talking to Greg and his agent for a number of weeks now," Locke told BBC Scotland's Sportsound.
"We're hopeful that we'll get a decision one way or another in the next couple of weeks."
He added: "I think it's important for the lad himself. One thing I don't want is this effecting how he's playing."
Kiltie has started less than 20 games in the Scottish Premiership, and Locke said the winger should look to James McCarthy and James McArthur for inspiration, who are now full internationals and regulars in the English Premiership, but only after they played for a sustained period in the first team at Hamilton Accies.
He said: "He's a young lad, he's got bags of potential, I've tried to speak to him on numerous occasions. I feel at least at the moment he's playing, he's playing first team football.
"The last thing I'd want him to do is go down to England now and end up becoming a development player. The best thing for him at the moment is to play first team football with Kilmarnock.
"He's not started a lot of games. McCarthy and McArthur played 150 games before they moved and they were ready to move and play first team football and that's the message we're trying to get over to our young players."
Kilmarnock defender Conrad Balatoni has agreed a contract extension until 2018, but Rory McKenzie and Craig Slater are two others yet to commit to new deals.
"In years gone by it's been a big problem for the club, they've let contracts run down," explained Locke. "What we'd like to do is get these players signed up on two to three year deals and then you've got that bit of security if a big club does come in, hopefully the club gets a bit of money for him.
"I'm not 100% but I think we've got one of the youngest squads in the league at the moment. I'm a big fan of giving young lads a chance. We've got players like (Kris) Boyd and (Jamie) Hamill on the bench because the young boys are doing really well."
Locke has built a reputation for giving young players a chance, having had to field a youthful Hearts side through administration in 2013/14.
He said: "We had kids at 16 and 17 who were not ready for first team football but who had to play because we had no-one else. They were making mistakes in the first team that they should have been making in the reserves.
"But I think that's been the making of them. I take great pride in seeing (Callum) Paterson, (Jamie) Walker and (Sam) Nicholson who've all now got 60 or 70 games behind them and they're now not making anywhere near the same mistakes if they had been playing reserve football for the best part of their career."