Justin Bieber inspires Southend midfielder Ryan Leonard to score
Last updated on .From the section Southend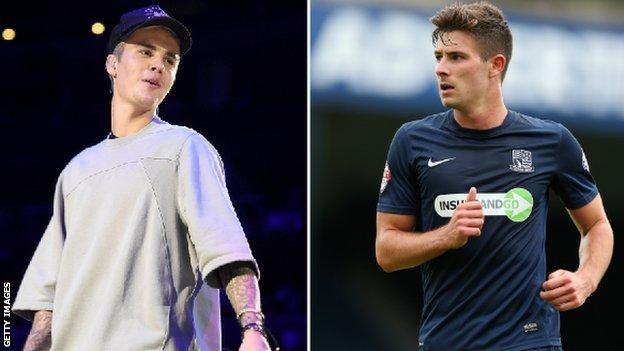 We all know footballers have their superstitions - arriving last out of the tunnel, or putting the left sock on first.
What about a pre-match ritual involving Justin Bieber?
Southend midfielder Ryan Leonard, 23, reckons his three goals in four games are down to the Shrimpers listening to the Canadian pop star's music in the dressing room before kick-off.
"Since we started playing Justin Bieber I've starting scoring again," he said.
Leonard revealed team-mates Ben Coker, Will Atkinson, David Worrall and Kevan Hurst were all fans of the singer, who has sold 15 million albums worldwide.
The players even replicated Bieber's dance moves when celebrating his goal in the 2-2 draw with Sheffield United earlier this month.
"We pretty much live together and we're addicted to Justin Bieber's new song," Leonard told Echo News.
"We all said that when one of us scored we would all do that celebration but it didn't look quite as good on the television as I had imagined.
"I'm not sure it's everyone's cup of tea, especially Adam Barrett [35-year-old defender]."
The Shrimpers beat Oldham 5-2 on Tuesday - the first time the League One club have hit five goals during Phil Brown's two-and-a-half years in charge.