Chris Cohen: Nottingham Forest midfielder can change his style
Last updated on .From the section Football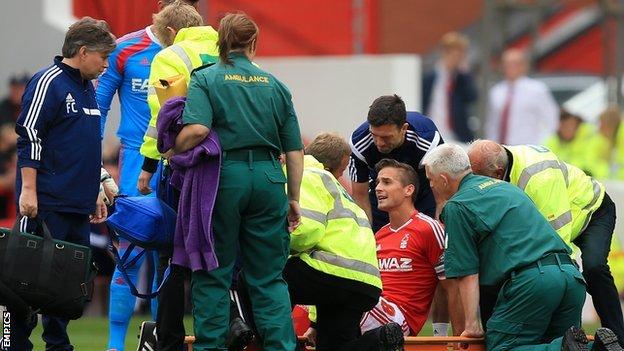 Nottingham Forest midfielder Chris Cohen believes he can change his style of play as he returns from injury.
Cohen told BBC East Midlands Today: "For it to happen three times almost in a row, it has been tough.
"I know I can change the way I play a bit, adapt a little bit and show other qualities that I know I have got."
Cohen, who joined Forest from Yeovil in July 2007, made nine appearances in 2011-12 before getting injured in the 2-1 home defeat by Derby County.
After playing the whole of the 2012-13 season, he managed 17 games the following campaign but was injured playing against Burnley at the City Ground in November 2013.
He returned for the start of 2014-15 but six games into the season - at home against Derby again - he suffered his third long-term injury.
"I am only 28 and I have always been slow," joked Cohen. "I'm not going to lose my pace. If I lost my pace I'd running backwards.
"I know that I can play for a long time in a couple of different positions, which is nice, but obviously I have got to stay healthy.
"The club, chairman and manager have all been fantastic with me, the supporters too, and I hope to repay that faith for a number of years if it's possible."