'Brand Africa': the business of African football
Last updated on .From the section Football
The final whistle blew, and the sky blue-shirted players danced with delight. Manchester City had at last won the Champions League.
A premonition? A dream? A computer game?
No - this was reality, although the venue was a far cry from the gleaming, state-of-the-art stadia of Europe and that anthem.
The 'Football for Hope' Centre in the Johannesburg township of Alexandra was the host - a legacy from the 2010 World Cup in South Africa, where teenagers can play out their dreams of representing the world's major clubs in their own 'Champions League' competition.
For most of these teenagers, playing at the very top level will remain a dream but some may turn professional, while one or two may even make the move to Europe and play for a real Champions League team.
After all, the top four leagues of Europe were represented by nearly half the continent in 2014-15, with 24 of Africa's 54 nations providing players.
That all helped to ensure that over 75% of clubs in England, Germany, Italy and Spain had African representation - a far cry from yesteryear.
For decades, the very best footballers in Africa have been embarking on a voyage of discovery to Europe to play in the most prestigious leagues and for some of the best clubs in the world.
There were the trailblazers in the 1960's, like Eusebio - born in Mozambique and who later represented Portugal - and the ambassadors like Zambia's Kalusha Bwalya in the late eighties and Ghana's Abedi Pele.
More recently, there have been the legends who have become global stars - Liberia's George Weah, Ivorian Didier Drogba and Cameroon's Samuel Eto'o, to name just a few.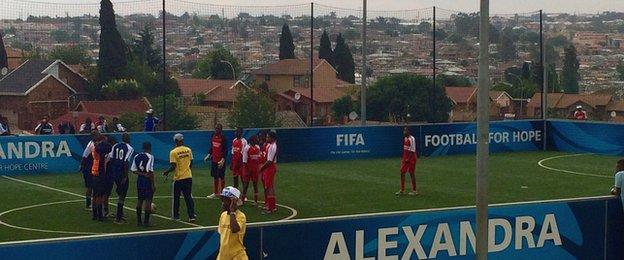 As the English Premier League and Spain's Primera Division chased increasingly lucrative sponsorship deals, and made further brand penetration into new markets, having a top African player in a squad could make a huge difference.
In the early noughties, then Bolton Wanderers manager Sam Allardyce made a move for Nigeria's Jay-Jay Okocha that helped transform the previously little-known English club.
"Jay-Jay is the god of football in Nigeria - and he made a massive impact on football fans in Nigeria who became Bolton fans," Allardyce told BBC Sport.
"The recognition the club got around the world at that time was second to none."
Okwocha's nephew Alex Iwobi is currently with Arsenal which, like other English clubs, has also been penetrating the African business market.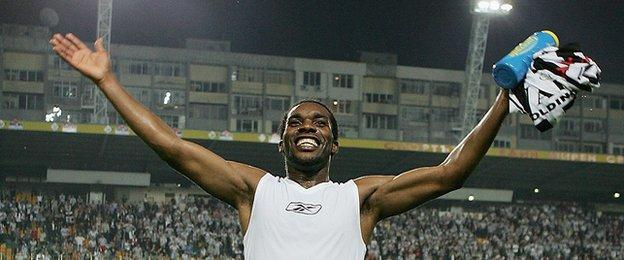 When the London side linked up with Ethiopian brewery Dashen two months ago, the announcement on the club's website received more web traffic from Ethiopia than when the Gunners won the FA Cup in May.
And to the further delight of the locals, Arsenal coaching staff are to take part in grassroots football development in Ethiopia as a result - with several in the country last week.
Yet it's Allardyce's current charges - Sunderland - that are the shining example of a club investing in both African business and young talent.
Their shirt sponsorship deal with the not-for-profit group Invest in Africa in 2012 led to further contracts on the continent and the creation of a football academy in Tanzania to nurture tomorrow's potential stars.
BRIDGING THE DIVIDE

33 of Europe's 53 title-winners last season had African representation.

Italians Juventus have a soccer school in the Kenyan capital Nairobi.

Belgian champions Gent led the way with six African players.

Spain's Barcelona have built academies in Rwanda and Uganda.
"We have a great synergy with the African continent," Margaret Byrne, Sunderland CEO, told BBC Sport.
"When we had players like Asamoah Gyan, Sulley Muntari (both Ghana) and (Benin's) Stephane Sessegnon, we had a lot more interest from African supporters and that's something we want to continue - growing a fan base."
"The former President of Tanzania, Jakaya Kikwete, helped forged this relationship. We are teaching the kids about education and lifestyle - it's more than just football - and that replicates what we do with our community programmes in Sunderland."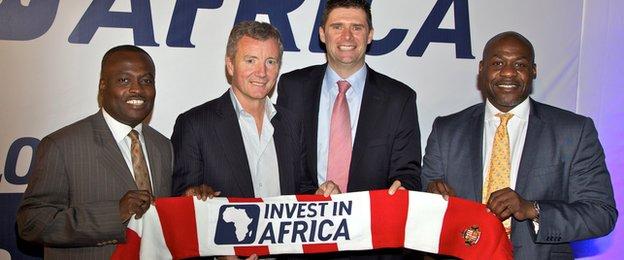 Sunderland may never have come close to winning the Premier League but Africans such as Drogba (Ivory Coast), Michael Essien (Ghana) and Nigeria's Nwankwo Kanu, among others, certainly have.
And they have helped build a legacy whereby 147 African played in either England, Germany, Italy or Spain last season.
The English Premier League led the way with 45, Italy had 44, Spain 37, and Germany 21 - not that the latter is ignoring African talent.
"The number is a bit limited as Bundesliga clubs can't sign and play a young African in the under-19 or under-23 teams, due to legal reasons," Lutz Pfannenstiel, Director of International Relations at Bundesliga side Hoffenheim, told BBC Sport.
"So you have to put him straight into the first team squad, and that's difficult for a young boy. German teams usually take a more developed African who has flourished in the Norwegian, Swiss or Belgian leagues."
Nonetheless, many German sides were among the 59 clubs - out of 78 - in Europe's top four leagues to have fielded an African in 2014-15.
While Spanish sides Granada and Levante were the clubs with the most Africans (six each), Ivory Coast, Ghana and Senegal were the African countries providing the most players (18 apiece).
In the wider European picture, 33 of last season's title-winning sides in UEFA's 53 member nations had African representation.
Back to Alexandra, where the aspiring footballers appear to have a synergy with the BBC African Footballer of the Year shortlist.
Their skills televised around the world, Aubameyang, Ayew, Brahimi, Mane and Toure were all quoted - unprompted - by the boys as players they look up to, both on and off the pitch, a fitting tribute from the next African generation coming through.