Black Friday: The best and worst Premier League panic buys
Last updated on .From the section Football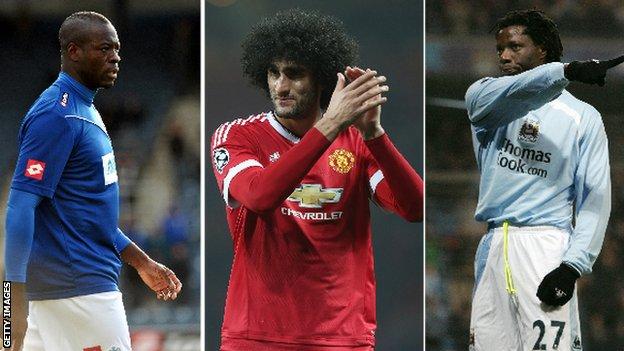 Black Friday is the biggest shopping day of the year, when bargain hunters try to grab themselves a great deal.
But one man who will not be joining the hordes of shoppers is Arsene Wenger.
The Arsenal manager was not even aware of the phenomenon when asked at a news conference, but was against the concept of panic buying.
"If they need two TVs, yes. But if they don't need one, why should they buy two?", he said.
Wenger does, however, love getting a good deal for a player, saying: "I love a bargain. Who doesn't love a bargain?"
But history suggests that Wenger does not always follow his own advice and has himself been partial to a panic buy on football's own annual shopping phenomenon -transfer deadline day.
In honour of Black Friday, BBC Sport takes a look at the best and worst deadline-day buys. Did clubs get a bargain or did they end up being a Christmas pudding?
Wenger's hits and misses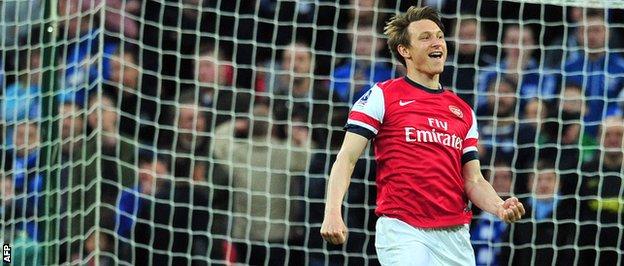 For every Patrick Vieira and Mesut Ozil that Wenger considers a "top bargain", there is Kim Kallstrom and Andre Santos.
"What is a bargain for us is to buy players of top quality, because only top quality strengthens our squad," said Wenger, in reference to the £2.5m he spent on Vieira and £42.4m on Ozil.
But rewind to 31 August 2011. With midfielders Cesc Fabregas, Samir Nasri and defender Gael Clichy all leaving in the summer window, Wenger embarked on a deadline-day spending spree.
He spent £10m on Mikel Arteta from Everton while midfielder Yossi Benayoun arrived on loan from Chelsea with defenders Per Mertesacker and Santos also brought in.
Arteta and Mertesacker have proved their worth and longevity at Arsenal while the less said about £6.2m left-back Santos, the better. The Brazilian played just 33 times in two seasons at the Emirates, which included an ill-advised half-time shirt-swap with former Gunner Robin van Persie.
Then there is the curious case of Swedish midfielder Kallstrom who was signed on loan, albeit with an existing back injury, on 31 January 2014.
The Swede, then aged 31, was meant to provide cover for for the injured Aaron Ramsey and Jack Wilshere, but he himself was sidelined for six weeks and only made four appearances for Arsenal.
Verdict: Arteta and Mertesacker are Black Friday bargains. Kallstrom and Santos are Christmas puddings
Robinho joins City...not Chelsea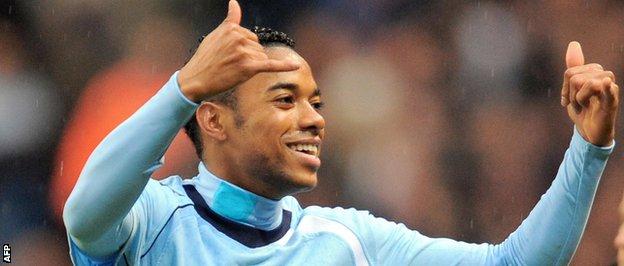 On 1 September 2008, Manchester City beat rivals Chelsea to the signature of Brazilian forward Robinho from Real Madrid for a then British record transfer fee of £32.5m.
Signed in dramatic fashion in the final few hours of the transfer window, Robinho was seen as a signal of intent by City's new owners the Abu Dhabi United Group.
But at his first press conference he mistakenly expressed his delight at joining Chelsea.
Just two years later the Brazilian was packing his bags and heading to AC Milan after struggling to make an impact in the Premier League.
He finished his City career with 14 league goals to his name.
Verdict: Christmas pudding
Liverpool's gamble on Carroll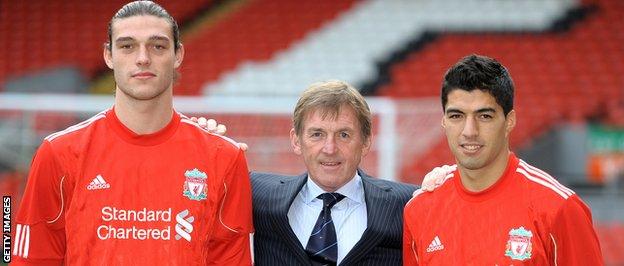 With Fernando Torres packing his bags and heading to Chelsea for a then British transfer record £50m, Liverpool needed a replacement.
They decided to fill the Torres-sized hole in their strikeforce and splash the cash on 22-year-old Newcastle striker Andy Carroll on transfer deadline day, 31 January 2011.
Carroll arrived for a club-record £35m to partner Liverpool's other new striker Luis Suarez.
But while Suarez's stock soared, Carroll's plummeted. After scoring just six goals in 26 league games, he left for West Ham 18 months later.
As for Torres, he struggled to live up his price tag but did win the Champions League, Europa League and FA Cup in his three years at Stamford Bridge.
Verdict: Christmas pudding
Newcastle's punt on Kuqi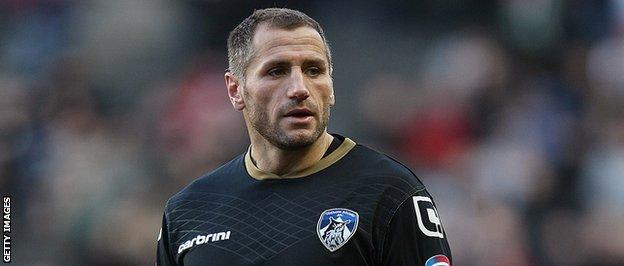 With Carroll having left for Liverpool and Shola Ameobi out injured, Newcastle desperately needed a proven striker to bolster their attacking options.
Step forward Finland striker Shefki Kuqi, who aged 34 was offered the chance to move to St James' Park in February 2011.
Kuqi featured only six times as a substitute for Alan Pardew's team before he was released just three months later.
Verdict: Christmas pudding
Falcao's failure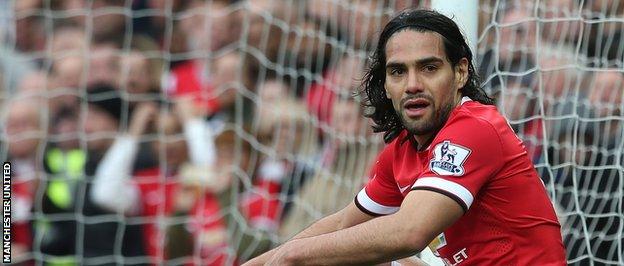 Colombia striker Radamel Falcao joined Angel Di Maria, Daley Blind, Marcos Rojo, Luke Shaw and Ander Herrera at Manchester United in the summer of 2014 for a combined £149m as Louis van Gaal splashed the cash.
Falcao was seen as one of the most exciting and unexpected arrivals of the transfer window when he turned up at Old Trafford on deadline day, joining on a £6m season-long loan deal, earning approximately £265,000-a-week.
But Falcao struggled for form, scoring four goals in 29 games and Van Gaal decided against offering him a permanent contract. Falcao joined Chelsea in the summer.
Verdict: Christmas pudding
Samba's brief stay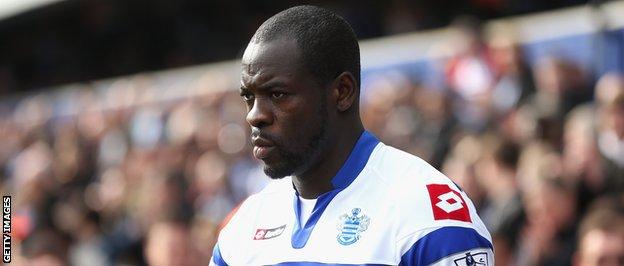 Harry Redknapp is no stranger to a deal on transfer deadline day and on 31 January 2013, as manager of QPR, he paid a club-record £12.5m for Christopher Samba from Russian side Anzhi Makhachkala.
"This is an unbelievable signing," said Redknapp at the time, as QPR battled relegation from the Premier League.
But ex-Blackburn defender Samba could not prevent the Hoops from being relegated and returned to the Russian club for £12m just six months later.
He later claimed he was never 100% fit during his brief time in west London.
Verdict: Christmas pudding
No go for Xisco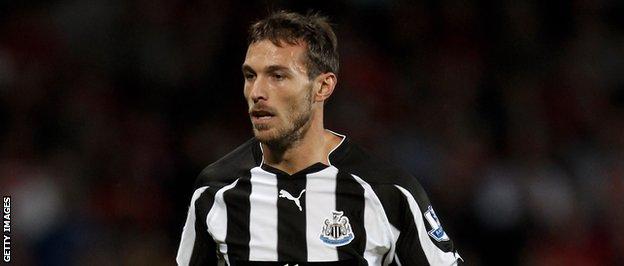 Spanish striker Xisco from Deportivo La Coruna on a five-year deal for a reported £5.7m on transfer deadline day in September 2008.
But manager Kevin Keegan quit the club just days after his arrival on Tyneside.
He scored on his home debut but made only 11 first-team appearances before his contract was cancelled by mutual consent in January 2013.
Verdict: Christmas pudding
Rooney pays back United's faith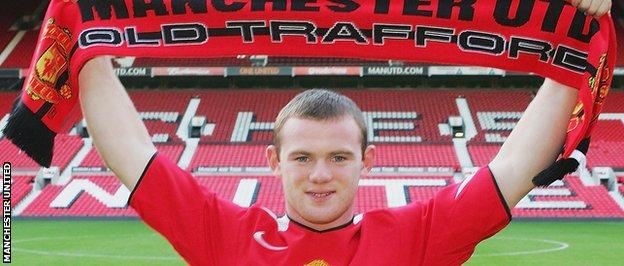 Not technically a panic buy, but the signing of England's record goalscorer Wayne Rooney did not go through until deadline day on 1 September 2004.
Manchester United paid Everton £27m for the 18-year-old, making him the most expensive teenager at the time.
He has more than fulfilled the hefty price tag, and 11 years later is United's captain and just 12 goals short of Sir Bobby Charlton's club record of 249.
Verdict: Black Friday bargain
Tottenham's splurge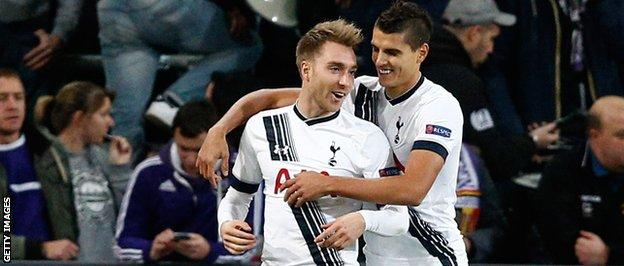 In summer of 2013, Tottenham went on a spending spree to match even Black Friday's biggest shopaholics.
With the £86m they received for Gareth Bale from Real Madrid, Spurs spent £110m on seven players with Erik Lamela, Roberto Soldado, Paulinho, Christian Eriksen, Etienne Capoue, Vlad Chiriches and Nacer Chadli all arriving at White Hart Lane.
Two years later and only three of the not-so-magnificent seven remain, Eriksen, Lamela and Chadli.
Of the four to leave, Spanish striker Roberto Soldado was the costliest. Signed for £26m, he was sold at a loss of £19m to Villarreal after a return of seven goals in 52 Premier appearances.
Denmark midfielder Christian Eriksen has been a huge success and was a bargain at £11.5m, but the jury remains out on club-record signing Erik Lamela who cost £30m.
Verdict: Plenty of Christmas puddings but some Black Friday bargains in Chadli and Eriksen
The curious case of Benjani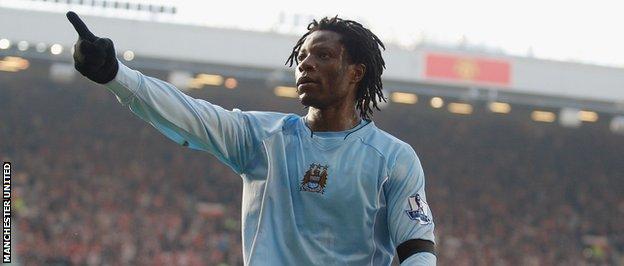 With the clock ticking on transfer deadline day on 31 January 2008, Manchester City desperately turned their attention to Portsmouth striker Benjani to strengthen their squad
A fee was agreed for the Zimbabwe international in the afternoon and he subsequently made his way to Southampton airport.
But Benjani reportedly fell asleep, resulting in him missing two flights to the north-west and not arriving in Manchester until after 23:00 GMT.
In that time, City became concerned with a long-standing knee injury, and tried to back out of the original deal.
A City spokesperson later stated the deal had not gone through before the midnight deadline but, four days later, the Premier League confirmed they had received the necessary paperwork in time and the move was officially completed.
Benjani made an ideal start to life at City, scoring on his debut in a 2-1 win against Manchester United, but injuries restricted his appearances after that, playing 22 further games and scoring three more goals over a two-year period before leaving in 2010 when his contract expired.
Verdict: Christmas pudding
Moyes panics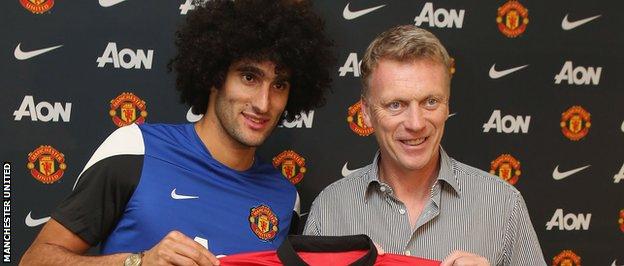 Having tried without success to tempt one of Cesc Fabregas or Thiago Alcantara from Barcelona for much of summer 2013, David Moyes, in his first transfer window in charge at Old Trafford, turned his attention back to former club Everton.
The Scot had made a joint bid of £28m for both midfielder Marouane Fellaini and full-back Leighton Baines in mid-August which Everton described as "derisory" and immediately rejected.
Little progress was being made as deadline day approached and Moyes was forced into panic mode.
The Scot was aware that Fellaini had a £23.5m release clause in his contract, but the deadline for that expired on 31 July, with no United bid forthcoming.
But less than one hour before the transfer window closed, the Red Devils confirmed the signing of Fellaini for £27.5m, £4m more than the release clause.
Fellaini struggled to make an impact in his first season but scored crucial goals as United finished fourth in Louis van Gaal's first season in charge.
Verdict: Black Friday bargain...just
United hold off City for Berbatov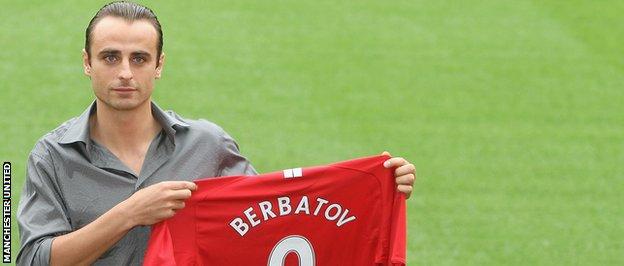 Like two Black Friday shoppers wrestling over a cut-price 50-inch TV, Manchester City and Manchester United did battle over Tottenham striker Dimitar Berbatov on deadline day in 2008.
Sir Alex Ferguson pursued Berbatov all summer and his hard work looked like it would be for nothing when City made an offer of more than £30m for the Bulgarian, which was accepted by Spurs.
But United managed to complete the signing after they matched City's offer and got their man for £30.75m.
Berbatov won two Premier League titles with United and the golden boot as the league's top scorer in 2011.
Verdict: Black Friday bargain