Louis van Gaal: Man Utd manager says Leicester can win league
Last updated on .From the section Football
Leicester are serious Premier League title contenders, according to Manchester United boss Louis van Gaal.
The Foxes, who finished 14th last season, are top of the table, one point ahead of second-place United.
They meet on Saturday (17:30 GMT) and when asked if Claudio Ranieri's team could win the league, Van Gaal said: "It is possible, I think."
Van Gaal called Leicester striker Jamie Vardy, the league's 13-goal top scorer, a "nasty" player to face.
Vardy marked his first Premier League start by making four goals and scoring the other as the Foxes beat United 5-3 in September 2014.
The England international, 28, has equalled former United forward Ruud van Nistelrooy's record of scoring in 10 successive Premier League games, and could break it on Saturday.
"He was already a very nasty player for us last year," Van Gaal said of Vardy.
"He scores, he provoked a penalty, now scoring 10 goals in a row, he is a great player. I only know Dennis Bergkamp as a player who did the same with Ajax. It's not so easy to do that."
Can Leicester last?
Foxes boss Ranieri called Arsenal manager Arsene Wenger "a joker" for suggesting that Leicester were title contenders, but Van Gaal thinks they can sustain their form.
"Normally these kind of clubs can compete for long time, then at the end it becomes more difficult," he said, before Saturday's game at the King Power Stadium.
"But in England because of the quality of the teams, because every team has the money to buy players - and they have bought players - the difference in the Premier League between the clubs is not so high."
Wilson 'needs to develop'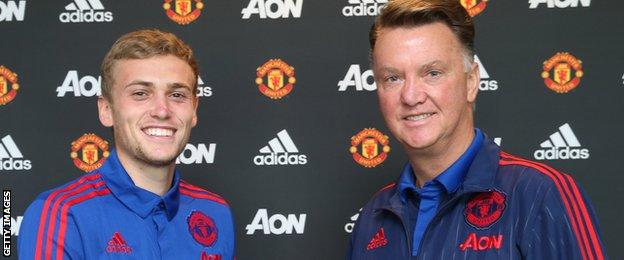 United have allowed young striker James Wilson to join Championship Brighton on loan until the end of the season - despite failing to score in four of their last seven games.
Van Gaal has defended his decision not to play the 19-year-old, who has made just two appearances for United this season.
"He didn't contribute so much," the manager said. "He played a few minutes in the Premier League and Capital One Cup, and was not always selected in the squad.
"Players of his age need to play and, of course, I can imagine that fans are thinking 'that is ridiculous, they have difficulties scoring', but that is a short-term thought.
"We have to think what is best for a player like Wilson. Now he doesn't have many opportunities to play and we believe in him so he has to develop himself elsewhere. When we need him we can call him back."