FA Inter League Cup: Guernsey Priaulx side can 'showcase' talent
Last updated on .From the section Football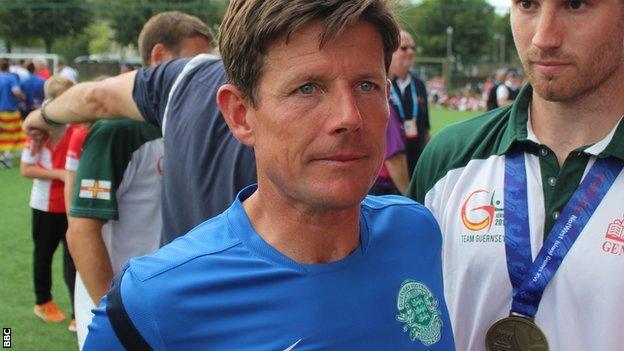 Players from Guernsey's Priaulx League have a 'showcase' for their talents when they face the Southern Amateur League in the FA Inter League Cup.
"I'm enormously excited about this group," said manager Steve Sharman.
"We're looking at a two-year project for 10-12 games for this group, regardless of whether we're successful in the Inter League Cup."
With Guernsey FC also in action in the UK against Dorking Wanderers on Saturday, Sharman says it is an exciting day for the sport in the island.
"It's a showcase for Guernsey football, with Guernsey FC playing a top of the table side and we've got this fantastic opportunity with what are aspirational footballers who want to improve themselves," Sharman added to BBC Radio Guernsey.
"They're the best group out of the Priaulx League, they're playing a good side in the Southern Amateur League and it's just really exciting to have that many footballers from Guernsey to play at a representative level."
Guernsey squad:
Leroi Riley, Josh Addison, River Marsh, Miles Pengelley, Naro Zimmerman, Ollie McKenzie, Damian Larkin, Ryan Lamb, Jose Alvarez, Scott Bougourd, Rory Moriarty, Seb Skillen, Nick Rumens, Simon Tostevin, Nigel Hutton, Sam Murray, Kyle Smith.