BBC African Footballer of the Year: Where are they now?
Last updated on .From the section African
Ahead of learning who will claim the BBC African Footballer of the Year in 2015, BBC Sport takes a look at two former winners.
Nigerian Jay-Jay Okocha is the only player to have won back-to-back awards, having done so in 2003 and 2004.
Meanwhile, Mohamed Aboutrika is the last Egyptian to have his hands on the trophy, earning the prize in 2008.
This year's winner will be announced on Friday, 11 December between 15:30 and 16:00 GMT during a special live broadcast on both BBC World News and BBC World Service, with the BBC Sport and BBC Africa websites also carrying the announcement.
JAY-JAY OKOCHA, by Oluwashina Okeleji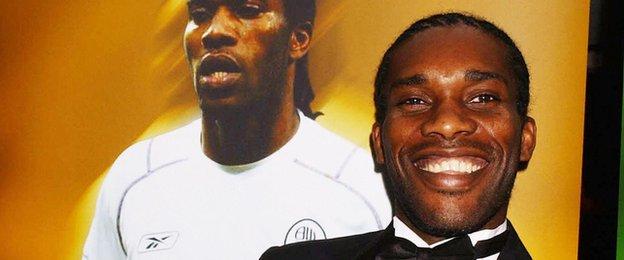 Former Nigeria captain Austin 'Jay-Jay ' Okocha wore the iconic number '10' shirt made famous by Pele and Diego Maradona for club and country.
Now 42, Okocha was well known for his days at Bolton Wanderers where he made almost 140 appearances during a four-year stay in the north-west of England.
After a short spell in Qatar, his playing days ended at Hull City in 2008 since then the former Super Eagle has cropped up in a variety of guises.
Austin 'Jay-Jay' Okocha in focus

Age: 42

Country: Nigeria

Career highlights:

Africa Cup of Nations (1994)

Olympic gold medal (1996)

Previous clubs: B Neunkirchen, Eintracht Frankfurt (Germany), Fenerbahce (Turkey), PSG (France), Bolton Wanderers, Hull City (England), Qatar SA (Qatar).
The talented midfielder soon veered into the nightclub business when he ran the aptly-named 'Club 10' on the highbrow Victoria Island in Lagos.
But he quickly realised that running a nightclub was a different game to producing a brilliant free-kick or rainbow flicking the ball over Ray Parlour's head.
After making next-to-no profit, Okocha sold Club 10 after couple of years.
Contrary to a widely-held notion that he had fallen on hard times after US$1 million of his money was trapped in a distressed Nigerian bank in 2004, Okocha is doing just fine as a businessman.
He may no longer commands the Premier League's six-figure salaries but Okocha is currently the Delta State FA boss in his native Nigeria and heads the NFF's Technical Study Group.
With his face plastered on billboards across the West African country, Okocha makes money from endorsements and as a Television pundit with SuperSport TV.
Looking back, the former Eintracht Frankfurt, Fenerbahce and Paris Saint-Germain playmaker says the 2003 BBC crown aided his career, especially since he never won the Confederation of African Football's award.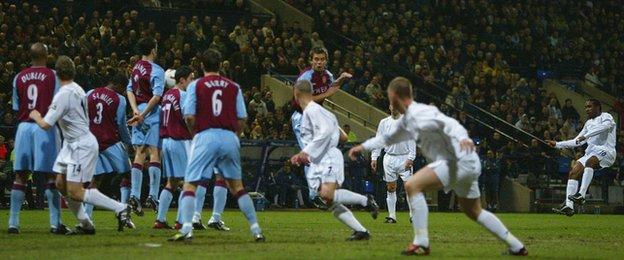 "It helped, boosted my confidence and made me realise I was doing the right thing," Okocha told BBC Sport.
"It absolutely inspired me to do more. It gave me great joy to know that people in Africa, across the world and not just in my country valued my effort."
Okocha retained the trophy in 2004 after captaining Nigeria to third place at the Nations Cup, where he finished joint top scorer, and helping Bolton to eighth in the Premiership, their then highest finish.
"To have won a prestigious award like the BBC honour - not just once but twice - made me realise people appreciate what I do," he explained.
"I appreciated the second one more because it was more difficult to retain the award. I will forever be grateful to the BBC for creating this award, and to those who voted for me and believed in me."
MOHAMED ABOUTRIKA (EGYPT), by Inas Mazhar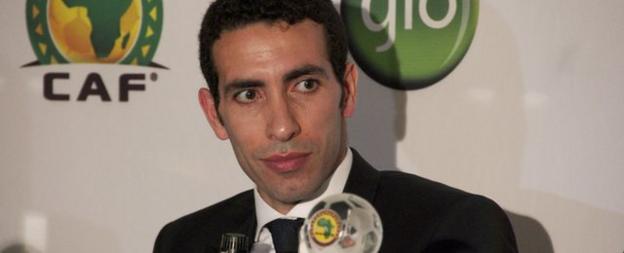 Dubbed 'The Prince of Hearts', 'The Magician' and 'The Saint' during his playing days, Mohamed Aboutrika's esteemed standing has been hit since retiring in 2013.
In 2012, the mercurial playmaker had already alienated some of his fans when pledging support to the Muslim Brotherhood leader Mohamed Morsi for that year's elections - and the association has never gone away.
Even though Morsi has since been imprisoned and the ousted Muslim Brotherhood branded a terrorist organisation, the Egyptian government alleges that Aboutrika has been helping the latter.
Mohamed Aboutrika in focus

Age: 37

Career highlights: 2 Africa Cup of Nations (2006, 2008)

5 African Champions Leagues

8 Egyptian titles

Country: Egypt

Previous clubs:

Tersana, Al Ahly (both Egypt)

Baniyas (United Arab Emirates)
Earlier this year, a flood of posts on social media sympathetic to Aboutrika was triggered after the state froze his assets in a travel company he co-owns and which is said to have financially aided the Muslim Brotherhood.
The 37-year-old has strenuously denied the allegations, telling the state-owned Al Ahram newspaper that there have been no official charges and how the case 'has not gone beyond the investigations phase'.
One of the company's owners was accused of committing 'hostile acts against the state' but Aboutrika says the figure in question withdrew from the company in 2013, the same year he joined.
Twice the 2008 BBC African Footballer of the Year has appealed the decision and twice he has been unsuccessful (with his assets still frozen).
Aboutrika's vast popularity, which transcended his identity with Al Ahly, has decreased in some circles because of the claims, but he may soon return to the vocation where he has always known the most success - football itself.
Since his retirement, he has been taking his coaching badges - while also turning down some high-profile roles.
Last year, a man who won two Africa Cup of Nations titles (in 2006 and 2008) with Egypt was offered the chance to return to the national team as technical director.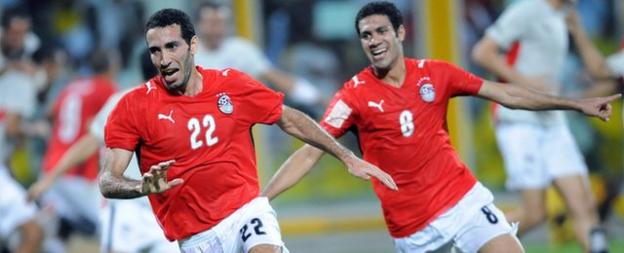 But he turned down the job, just as he did this year when offered the same role with Al Ahly, the club with whom he won five African Champions League titles and eight Egyptian championships.
"I am not away from football and never will be, but I just wanted to do things right," Aboutrika, who has also been working as a pundit for beIN Sports, told BBC Sport.
"I wanted to learn and gain experience before deciding to pursue my football career in coaching or management."
To that effect, he has taken a coaching badge in Germany while also being allowed to observe coaching at some of the world's biggest clubs - Barcelona, Borussia Dortmund and Chelsea.
Should he be as successful off the pitch as he was on it, then a more positive period may well loom for the former Pharaoh once again.