Jersey Portuguese handed suspended sentence
Last updated on .From the section Football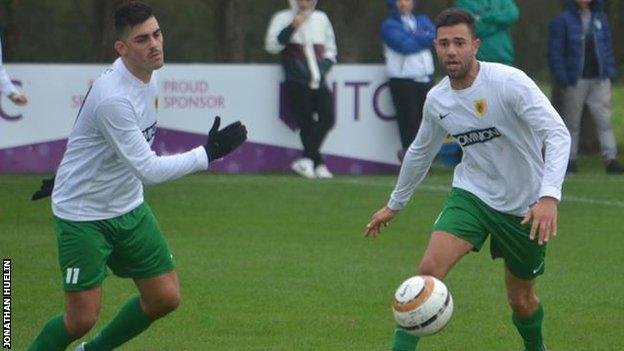 Jersey Portuguese have been warned they face being expelled from Jersey's league if they have further disciplinary problems.
It applies for the remainder of the current season and the next two.
"Portuguese were given a suspended sentence to 30 June 2018," said Combination president Charlie Browne.
"Therefore, if there is any further conduct before then that has been undesirable the club will be excluded from any further participation in the Combination."
Analysis: BBC Jersey's sports editor Tim Pryor
"This is effectively a final warning for Jersey Portuguese, after what the Combination president describes as 'recent disciplinary cases'. Some in Jersey would have been expecting a points deduction or heavy fine and will view it as lenient. However, a separate punishment from the Jersey Football Association could still be on the cards."
The decision by the Combination, which runs the league and cup competitions on the island, is separate from the Jersey Football Association's investigation into the incident.
The JFA has charged manager Jose Viera with misconduct but has yet to reveal whether he has responded to the charge, or whether any fine or points deduction will be handed down.
Portuguese Club left the pitch in the closing moments of their Premiership fixture against Wanderers on November 7, when their opponents scored to take a 3-1 lead.
Their linesman, Miguel Pereira, claimed he flagged for offside but the referee ignored him.
"I've played football for a lot of clubs over here and this season particularly we seem to be victimised," Pereira told BBC Radio Jersey after the game.