Chelsea: Diego Costa can still react positively - Ruud Gullit

By Ruud Gullit
MOTD2 pundit and former Chelsea manager
Last updated on .From the section Football

Chelsea manager Jose Mourinho's treatment of Diego Costa and Eden Hazard this week showed me just how desperate he is to get them back to their best form.
As a manager I would try anything I could to get my under-performing players doing the things they normally did, but I could not be sure whether it would work or how they would take it.
With Costa, by dropping him for Sunday's draw with Tottenham, Mourinho was trying to get a reaction. We don't know yet if it is going to end up being a good one.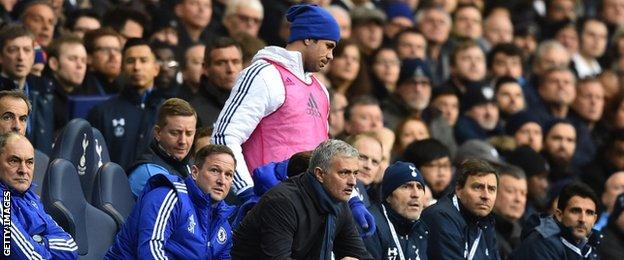 We all saw how Costa acted on the day, refusing to warm up before the game and throwing away his bib during it when he was not used as a substitute.
It is going to be a problem if he keeps behaving like that, but he could still respond positively in the long run and that is the reason Mourinho left him out.
It was also a risk for Mourinho to criticise Hazard publicly before kick-off, saying he was not convinced the Belgian can be an effective number 10.
Mourinho has tried something similar a couple of times already this season, but it is still strange to hear it because we are used to him protecting his players.
On this occasion, I think he will be happy with the reaction he got and Hazard's attitude was a good example for Costa to follow next time he plays.
'There comes a time when enough is enough'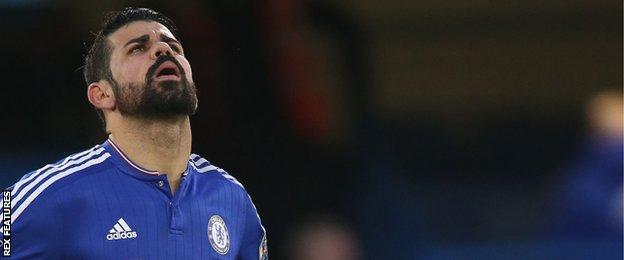 Mourinho kept picking Costa when he was not scoring for weeks and weeks and also defended him when he behaved badly on the field.
He was very loyal to his player but there was always going to be a time where he would say 'enough is enough' and leave him out, and it came at the weekend.
When you do that and the player himself still thinks he has done enough to be picked, then you have a problem - that seemed to be what was happening with Costa's behaviour at White Hart Lane.
But Mourinho is the manager and now Costa knows he will be tough with him too. What happens next is up to him, but if he is not playing well, then he will stay on the bench.
Diego Costa in Chelsea's first 14 Premier League games this season and last

2014-15

Costa

2015-16

11 (11)

Games (starts)

11 (11)

916

Minutes

970

11

Goals

3

26

Total shots

17

42.3%

Shot conversion

17.7%

0

Assists

1

18

Chances created

13
I don't see it being a permanent situation, because Mourinho is still searching for an answer up front.
He does not have many other options - Loic Remy and Radamel Falcao are Chelsea's other recognised strikers.
Remy is OK, but is he good enough for Chelsea? I am not convinced. As for Falcao, Mourinho thought he could get him back to being the phenomenal player he was before his cruciate injury in 2014, but a lot of people have already tried and failed there.
Neither of them were available on Sunday, so Mourinho played Hazard out of position up front.
Average position of Chelsea players' touches vs Tottenham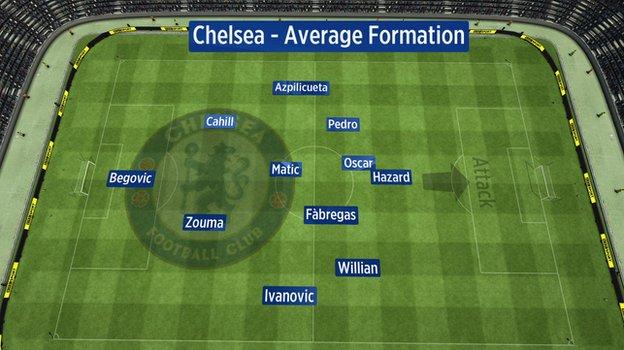 Hazard gave Chelsea more movement up front than when Costa has been playing recently and they created plenty of chances, but they did not have a finisher who could take them.
'Hazard is working too hard'
Hazard's situation is slightly different. When I've seen Costa play for Chelsea this season, he has not contributed enough but when I watch Hazard, I think he is actually doing too much.
I remember when I was Chelsea manager and had Mark Hughes in my team.
He was a fantastic target man who was willing to work hard but I asked him to do a little bit less because he was getting older.
Instead of following the ball deep or out wide, I just told him to operate inside the width of the 18-yard box in the opposition half.
The less he ran, the more energy he saved for the right reasons when we had the ball. I wanted him to concentrate on what he is best at, and it is the same with Hazard.
Against Spurs, Hazard responded to what his coach had asked for by tracking back all over the pitch, even though he was meant to be leading the line.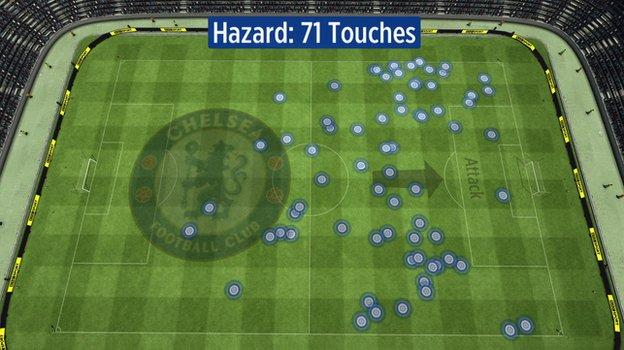 Mourinho must have been happy with what he did defensively, but I think it came as a cost in terms of what he offered in attack.
Hazard has had the same problem recently when he has been operating on the left, where he was so effective in helping Chelsea win the title last season.
Eden Hazard in Chelsea's first 14 Premier League games this season and last

2014-15

Hazard

2015-16

14 (14)

Games (starts)

14 (13)

1,218

Minutes

1,145

5

Goals

0

20

Total shots

13

25%

Shot conversion

0%

1

Assists

2

32

Chances created

39
He does a great job chasing the opposition to get the ball back but the only moments I would want to see him doing that are when he loses it himself.
I want him to focus on the attacking side of his game because he can make a huge difference with his goals and assists - we saw that in the second half of last season when he got his side out of jail on many occasions, and they need him to make the same difference now.
Ruud Gullit was speaking to BBC Sport's Chris Bevan.