Mark Sampson celebrates England women's 'fantastic 2015'
By Alistair Magowan
BBC Sport at Ashton Gate
Last updated on .From the section Women's Football
England women's boss Mark Sampson said Sunday's 1-0 win over Bosnia-Herzegovina at Ashton Gate was a celebration of their fantastic year.
"The important thing was to celebrate a fantastic 2015 for women's football in this country," said Sampson.
"To not get three points would have spoiled the party a little bit."
Having beaten Estonia 8-0 in September, England earned their second qualifying victory to put them second in Group Seven behind Belgium, who they will face in April.
But after wasting several good chances in the first half, Sampson said the team were frustrated they could not put on a show for an expectant crowd of 13,040, who were hammered by the wind and rain at Bristol City's home ground.
"It was frustrating, credit to Bosnia-Herzegovina, they made it difficult for us but the conditions were the winner," added Sampson.
"The players were desperate to put on a good show for the supporters and win the match with style and score lots of goals but in the end they had to be resolute and stay patient.
"The fans made it a brilliant atmosphere, and they have given us such a motivation to say we can't get beaten at home anymore. So to get that win and see so many in the ground was really special and something the players will remember for a long time."
Maintaining the momentum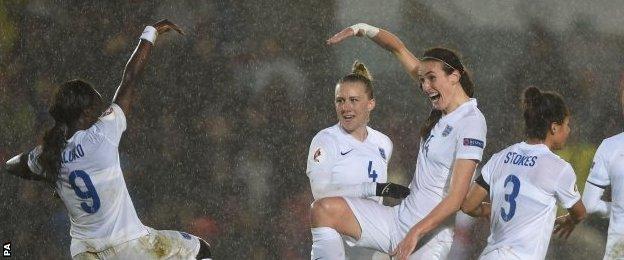 Sampson said securing England's best ever World Cup finish had made it a "ground-breaking" year.
And he has set his sights on winning Euro 2017, based on the fact that the Lionesses were the highest-placed European team in Canada after their third-place play-off win over Germany.
England have won 12 of their 19 fixtures this year, yet the former Bristol Academy coach said his team would need to play the big nations of women's football in 2016 to continue the momentum in a year where there is no major tournament for England.
Sampson's side drew 0-0 with European champions Germany last Thursday.
"We have laid a massive foundation to build on for next year," he said. "The success [this year] is something no-one expected bar the people in our changing room, and the exciting part of it is the group cannot wait to keep going.
"Next year will be challenging for us but the most important aspect is the competition and the determination in the group to keep us moving forward.
"To do that we have to make sure we start playing against the best teams more often than not. That will give this team a chance to pit their wits against the best teams in the world."
'I played my whole career hoping this would happen'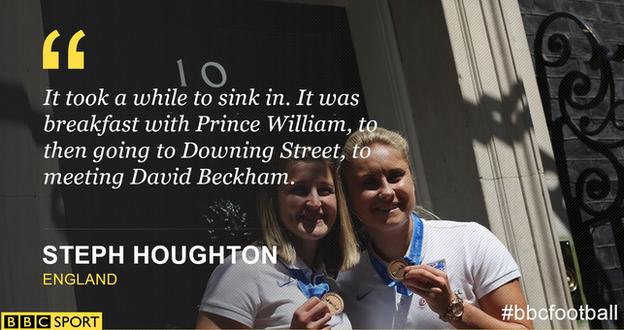 Former England captain Faye White was covering the game for BBC Radio 5 live sports extra.
"The nation took them to their hearts in the summer because of their achievement in getting to the third-fourth play-off and beating Germany - the first time we'd ever beaten them," she said.
"Viewing figures on TV were brilliant. People were staying up and getting behind the team at midnight.
"I played my whole career hoping that each tournament we played in, that would happen. We got to the European final in 2009 against Germany but they beat us.
"I thought that might ignite more interest and it did a little bit, but certainly not like the bronze did in the World Cup. The fact it's on television a lot more and the media side of things, Twitter and Facebook, allows people to engage with players and get a feel for their personalities."
England's win over Germany in the World Cup and the draw in last week's friendly came after they had lost 18 and drawn two of the previous 20 meetings between the sides before 2015.
White added: "England went to Germany thinking we want to get a result, even going into their back yard. In 2009 we reached the final and that was more of a 'wow, we reached the final'. This time they might be able to handle the expectation."
'England players are household names'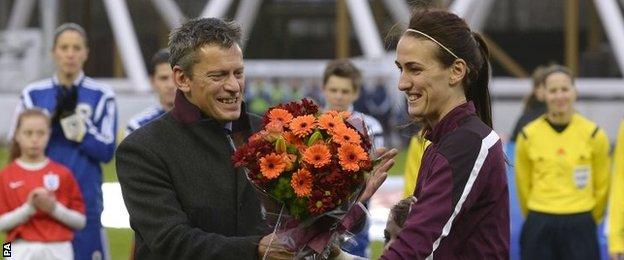 Former England pair Kelly Smith and Rachel Brown-Finnis were BBC Two's pundits for the game.
"It's been wonderful," said Smith. "What a year it's been. They've got recognition all over the world and in England. The players are now household names.
"Obviously this wasn't the performance we wanted to watch coming off the back of the World Cup, but full credit to all the players and Mark Sampson. They've put England women's football on the map. Long may it continue.
"They've got a strong qualification campaign to look forward to next year. Hopefully they'll top the group and do really well at the Euros."
Brown-Finnis said: "This year has been about making history, not just for England women's football but for women's sport in general.
"It's been put on the map and it's here to stay. I cannot wait for the rest of the qualifiers and to see England go out there and win silverware."
'Awesome to end unforgettable 2015 with win'
The final words go to the England players: