Agents' fees: Liverpool pay the most in the Premier League
Last updated on .From the section Football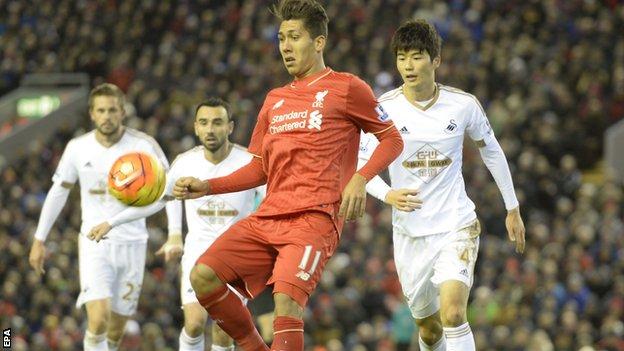 Liverpool spent more than £14m on agents' fees to lead the latest Premier League list which shows total payments at £129.86m - up £15m from last year.
Manchester United's fees nearly doubled to just under £14m while Arsenal's almost tripled to around £12m.
The Football League also published its agents' fees list with Cardiff City the biggest spenders in the Championship.
The Bluebirds spent £2,828,133, with the total outlay by Championship clubs amounting to £26,124,044.
League One clubs spent £3,167,964, with Wigan Athletic's fees totalling £1,461,088. The Latics were relegated from the Championship last season.
League Two's biggest spenders were Portsmouth, who spent £268,175.
League One side Bury, and League Two duo Accrington and Hartlepool did not pay any money in agents' fees.
The Premier League and Football League totals were calculated in the period from 1 October 2014 to 30 September 2015.
Premier League table of agents' fees (in order of spending with last year's figures in brackets)

Liverpool

£14,301,464 (£14,308,444)

Manchester United

£13,881,814 (£7,975,556)

Manchester City

£12,429,380 (£12,811,946)

Chelsea

£11,961,206 (£16,771,328)

Arsenal

£11,928,584 (£4,293,407)

West Ham

£7,049,001 (£6,380,339)

Tottenham

£5,987,052 (£10,983,011)

Newcastle

£5,946,031 (£3,876,250)

Southampton

£5,391,172 (£2,766,444)

Stoke

£5,308,545 (£3,986,850)

Aston Villa

£4,986,058 (£2,577,866)

Crystal Palace

£4,719,931 (£2,200,797)

Everton

£4,479,432 (£5,753,269)

Swansea

£4,250,030 (£3,784,090)

Leicester

£4,057,727 (£1,608,418)

Sunderland

£3,404,540 (£5,276,674)

West Brom

£3,342,217 (£3,493,745)

Norwich City*

£2,484,285 (not available)

Bournemouth*

£2,328,862 (£709,231)

Watford*

£1,620,229 (£355,750)

Total: £129,857,560 (£115,261,136) *promoted clubs