Karim Benzema 'has no place' in France team - PM Manuel Valls
Last updated on .From the section European Football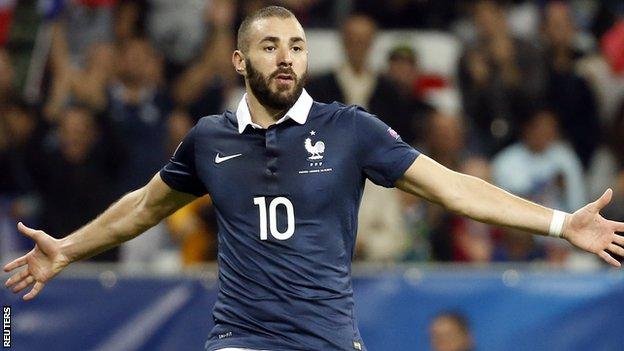 Real Madrid striker Karim Benzema "has no place" in the France team, according to French Prime Minister Manuel Valls.
Benzema is being investigated over a blackmail plot involving team-mate Mathieu Valbuena but denies wrongdoing.
The 27 year old, who has scored 27 international goals, faces charges of conspiracy to blackmail relating to an extortion scam over a sex tape.
"A great athlete should be exemplary. If he is not, he has no place in the France team," Valls told French radio.
"There are so many kids, so many youngsters in our suburbs that relate to great athletes. They wear the blue jersey, the colours of France, which are so important in these moments."
Benzema is considered one of France's key players as they prepare to host the Euro 2016 tournament in June, but neither he nor Valbuena were selected in the squad for the recent friendly matches with Germany and England.
Last month, after the French anthem was played at the Bernabeu in a tribute to victims of the Paris attacks, he ignited a wave of criticism on social media for spitting on the pitch.
That prompted his lawyers to release a statement in which they condemned "the scandalous interpretation" of the incident.
Benzema had posted several messages in support of the victims in the days that followed the attacks.
Real boss Rafael Benitez said Benzema is a key part of his side, despite not starting the last two games against Eibar in La Liga and Shakhtar Donetsk in the Champions League.
"I consider him a fundamental player for us. On a personal level I have said before that he is a great guy and he has our support," said Benitez.
"He is a key player for us because he is a reference up front and makes those around him play even better."
Former France international striker Djibril Cisse, who was himself interviewed by police investigating the alleged blackmailing incident, says it should be left to the authorities to decide if action is to be taken against Benzema.
"For the moment he's being investigated but he hasn't been judged and hasn't been found guilty," said Cisse.
"Give him the benefit of the doubt, the time to explain and let justice run its course.
"Like a lot of French people, I'm waiting to see what he has to say. But I'm not here to savage him and I leave it to the law and the police to decide."