Jersey Football Combination official quits over player behaviour
By Brent Pilnick
BBC Sport
Last updated on .From the section Football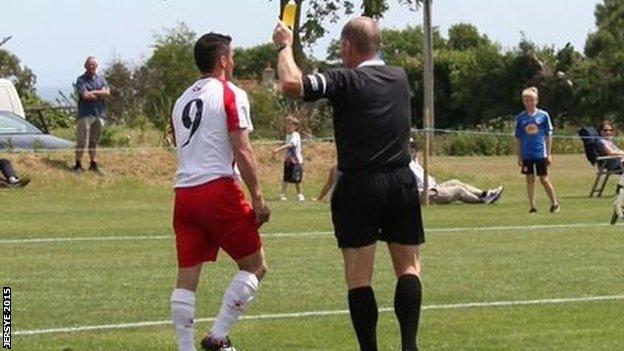 The vice-president of Jersey's Football Combination has resigned because of the behaviour of the island's players.
Mark le Cornu, who is also a referee, said he could no longer keep both roles after a number of incidents involving players and officials in recent weeks.
Portuguese Club walked off the pitch in protest at a referee while an official at another match was threatened.
"I didn't feel I could act as a figurehead for the league and clubs and support the referees as well," he said.
Le Cornu has been refereeing in the island for 25 years, having spent 20 years as a player.
Mark Le Cornu
"I refereed a game earlier this season and it was the first time I had had a mass confrontation in 25 years."
He has also spent the last decade as vice-president of the island's league and has also held the roles of fixtures secretary, registrations secretary and league secretary.
"I have been uneasy about a number of incidents that have occurred this season and not just necessarily on the pitch," added Le Cornu, who says he made his decision to quit before Portuguese Club were handed a suspended two-year ban by the league over the incident.
"There have been comments made that I've heard and incidents I've witnessed that have left me unhappy.
"When you hear senior club members vehemently disagreeing with my decisions when I'm refereeing, another senior club member that believed referees were 'fair game' it's been a significant accumulation of things."
The JFA has charged Portuguese Club manager Jose Viera with misconduct but has yet to reveal whether he has responded to the charge, or whether any fine or points deduction will be handed down.
Portuguese Club left the pitch in the closing moments of their Premiership fixture against Wanderers on November 7, when their opponents scored to take a 3-1 lead.
On the same day a referee was threatened during a reserve team match, and Le Cornu says he has seen a marked drop in behaviour levels in recent months.
"I refereed a game earlier this season and it was the first time I had had a mass confrontation in 25 years, and it was something which came out of nothing in essence," he said.
"Along with this and a number of other things I've witnessed both at matches and elsewhere have left me feeling quite troubled about the general level of behaviour on and around football pitches."