Forest Green Rovers: National League club almost £5.4m in debt
Last updated on .From the section Forest Green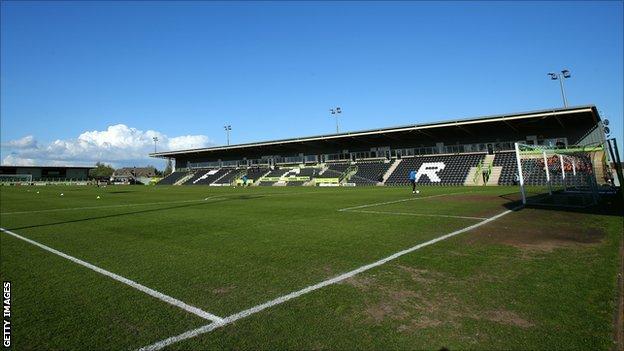 National League club Forest Green Rovers are nearly £5.4m in debt after posting a loss of £2.9m for 2014-15.
The figure for last season follows a loss of £2.5m for 2013-14.
Figures showed that running costs at the club, which is owned by businessman Dale Vince and has so far not commented on the figures, were more than £4m between 2014 and 2015.
"I think it's rather concerning," football finance expert Rob Wilson told BBC Gloucestershire.
"With any football club making a loss you would be concerned. It's offset by the amount of money they have been investing into the infrastructure at the club but essentially every loss is bad loss and you don't want to see that."
Vince has recently unveiled plans for a £100m sports facility, which will include a new stadium for the club.
He has also invested heavily in the playing squad, with Rovers currently second in the National League,
"They are trying to build for a challenge at the Football League," added Wilson. "You have to spend money to achieve that goal but the size of the loss is concerning, particularly when you compare it to their turnover."
Rovers being outside of the Football League means they do not fall under Financial Fair Play regulations but miss out on broadcast revenue.
"They are not going to clear the debt in the short term and if they continue to play below the Football League structure it is going to be very difficult to generate the revenue to cover those losses," said Wilson.
"They have a very wealthy owner. As long as the owner is prepared to put money in to cover those losses there is not too much of a problem.
"The issue is if the owner walks away if they don't get promoted and it leaves them in a relatively dire financial situation."