Fifa set for U-turn on reform proposals

By Richard Conway
BBC Radio 5 live sports news correspondent
Last updated on .From the section Football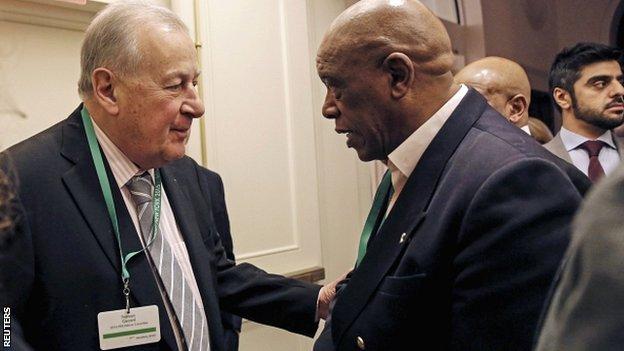 Fifa executives may face fixed terms of office and tougher checks following a U-turn on proposals about how the organisation is run.
A raft of other reforms will be discussed at a two-day meeting of Fifa's executive committee in Zurich.
Initially, committee recommendations had ruled out fixed terms but they will now be put forward for approval.
The U-turn means proposals by Fifa's independent auditor Domenico Scala are likely to form the basis for reforms.
Last month, prior to the U-turn, Fifa's reform committee chairman Francois Carrard published recommendations permitting executives to remain in post for an unlimited period of time, which were criticised at the time.
Sources close to the process say the former International Olympic Committee (IOC) director general has since been effectively side-lined in recent weeks.
Instead, it is believed Scala's earlier framework from September is set to form the basis of the reform proposals and will be put forward for approval almost wholesale.
Governance experts regard term-limits as an effective safeguard against corruption and help prevent conflicts of interest occurring.
Scala's original plan includes:
Tougher and centralised integrity checks on high-ranking Fifa officials

Introduction of term limits

Exco members to be directly elected by Fifa's 209 member associations

Salaries to be published

Fewer committees with fewer members

Limiting the powers of the executive committee by introducing a supervisory committee and a management board charged with day to day matters
If approved, Fifa's 209 member associations will have the final say when they vote on any changes to the governing body's statutes at an emergency congress to be held in Zurich on 26 February.
The new president of Fifa will be elected the same day.
How did the u-turn come about?
It is understood that a coalition of figures within world football have acted together to enhance the reform measures - with Carrard reduced to no more than a peripheral figure.
Markus Kattner, the acting secretary general of Fifa, and Marco Villiger, the organisation's legal director, are said to have played principal roles in ensuring Scala's original plans go before executives for approval.
Gianni Infantino, a reform committee member and a candidate for the Fifa presidential election in February, is also said to have been instrumental in negotiations over the changes which involved the influential Kuwaiti executive Sheikh Ahmed al Sabah.
An open letter from five Fifa sponsors calling for deep cultural change has added to the pressure on executives to take meaningful steps over the past 24 hours.
The sponsors are also calling for independent oversight over reforms both in the short and long term.