Gary Neville can succeed at Valencia - Sir Alex Ferguson
Last updated on .From the section European Football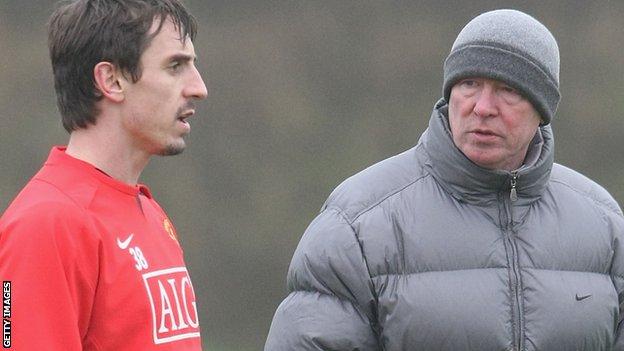 Sir Alex Ferguson believes his former Manchester United captain Gary Neville has the attributes to be a success as Valencia manager.
Former England defender Neville has been named as head coach of the Spanish side until the end of the season.
His brother Phil, who joined the La Liga club as assistant manager in July, will stay on the coaching staff.
Ferguson said of Gary: "His leadership skills are strong, he's honest and he's hard working."
Speaking to Sky Sports, he added: "He is the type of character who is not afraid of making big decisions, which is a vital skill when leading. I think he'll do well and I wish him, and his brother Phil, good luck."
Spanish football writer Andy West
"Valencia fans can be horrible to play in front of when they are angry... The converse is also true, however, and if he can succeed in getting the fans on his side, Neville could quickly become a folk hero."
Read more: Neville's to-do list at Valencia
Former United team-mate Danny Higginbotham said Neville was "destined to be a manager".
"Even as a youngster, he was always organising," Higginbotham told BBC Radio Manchester.
"His desire was always unbelievable and his leadership was great and that's what you want from a manager - desire, leadership and organisation and he's got that in abundance."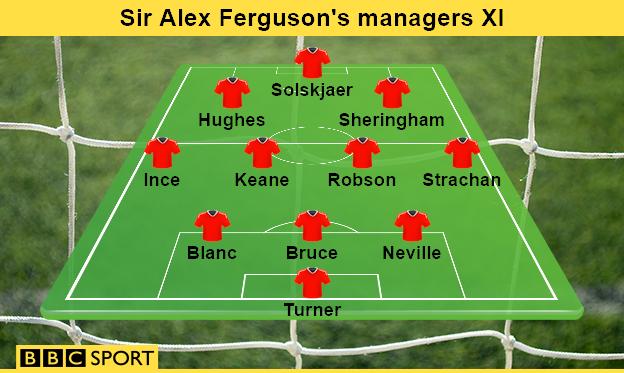 Former team-mates and colleagues have also had their say on Neville over the years and not all have been complimentary.
Here's the best of them:
Roy Keane
Former United captain Keane, when discussing Neville becoming an England coach in 2012.
"Listen, Gary can talk but don't think for one minute he was as influential in the dressing room as people might think he was. Gary would say his piece but he wasn't running the show. Far from it.
"So don't think for one minute he will be going into England and calling the shots. He will be learning his trade and being a link between the manager and the players, and I think he will be good at that."
Jaap Stam
In his book Head to Head, released in 2001, the Dutch former Manchester United defender wrote about the "busy" Neville brothers' "endless grumbling".
"Gary isn't happy unless he can have a good gripe and it's not too long after meeting up that the first shout of `shut up' is sent flying down the dinner table."
Jamie Carragher
Former Liverpool defender Carragher, who worked as a pundit with Neville on Sky's Monday Night Football, once joked:
"No-one wants to grow up and be a Gary Neville," when discussing full-backs.
Nicky Butt
Neville was part of the 'Class of '92' who graduated from the United youth team alongside Ryan Giggs, David Beckham, Nicky Butt, Paul Scholes and Phil Neville.
Butt said: "I hated Gary Neville the first time I saw him. The first time I met him, I was playing against him, for Manchester boys against Bury boys. There was just this lad at the back, who was a good footballer, but who never, ever shut up talking all the way through the game. He still does that today - he never shuts up.
"I couldn't stand him, I hated him. I wanted to tackle him, I wanted to show how good I was against him. Then one day I met him at the training ground and it just clicked and he became one of my best mates."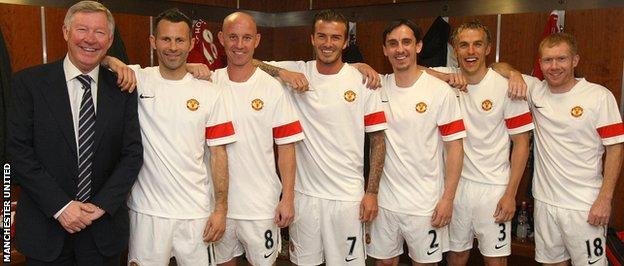 David Beckham
Beckham played in front of Neville on the right-hand side at Manchester United and England for over a decade.
"Busy b******, is what we always used to call him.
"He was the leader, if you saw Gary do something different on the pitch after training it had me thinking, 'if he is doing it, do I need to be doing something?'"
Ryan Giggs
Assistant United manager Giggs revealed the various nicknames for the Neville brothers.
"Busy brothers, busy one and two, nervous Nevilles."
Phil Neville
Phil Neville backed his brother when he was chosen by England manager Roy Hodgson to join his coaching staff:
"His biggest strength will be his honesty. People will say 'you can't go on telly one week and be a coach the next'.
"Let me tell you one thing about Gary, whatever he says on TV he would be prepared to say to a player's face in the changing room."
Eric Harrison
Former Manchester United youth team coach Eric Harrison, who brought through the Class of '92, said:
"Gary was nowhere near as talented technically as the other boys and he won't mind me saying that. He wanted to make himself a player."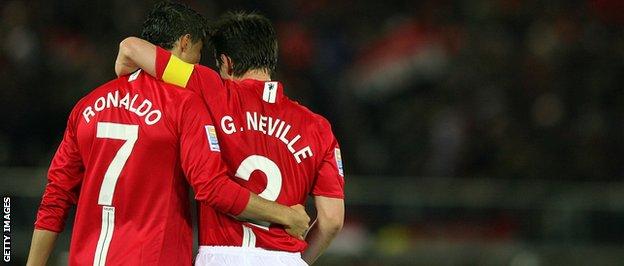 Cristiano Ronaldo
Real Madrid forward Cristiano Ronaldo spent six seasons at Old Trafford with Neville.
He said: "There were guys who always arrived for training one hour early. Paul Scholes and Gary Neville were an incredible example. Neville was the most professional player I saw."
Piers Morgan
Even journalist, TV presenter and Arsenal fan Piers Morgan admits he admires Neville.
"As a player, Neville was like a Jack Russell with worms, constantly nipping at people's ankles, foaming at the mouth and raging at anyone trying to discipline him.
"But the truth, the awful, sickening truth, is that Neville is also one of the greatest players in the history of world football.
"Not technically. No, I mean in regard to the virtues that are so sorely missing in the modern-day game - loyalty, passion, dedication, hard work and commitment."
Neville's own philosophy
In a recent column for the Daily Telegraph, Neville revealed he would model his own coaching style on Spurs manager Mauricio Pochettino
"At Southampton he mixed the best foreign players they could afford with the best from the academy in a highly effective style of play - high-energy, passionate, good to watch, defending high up the pitch (all the things I would love to instil myself, as a coach)."
How Twitter reacted