Fifa crisis: Annual losses of £67m for 2015 forecast at world body
Last updated on .From the section Football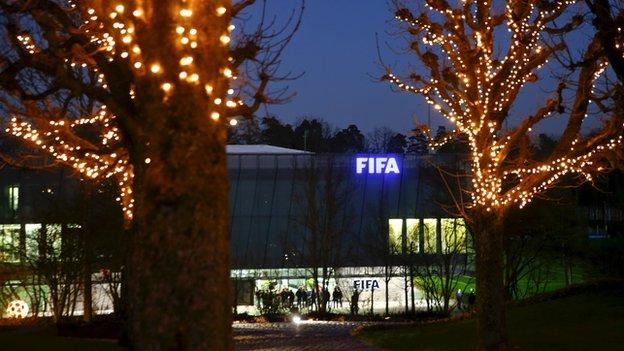 Fifa is expected to announce a £67m financial loss for 2015, a year in which it was hit by corruption claims and suspended its president.
Football's world governing body has been hit by allegations of corruption since US authorities indicted 14 officials this summer.
On Tuesday, key sponsors demanded "independent oversight" of reforms.
Fifa is currently holding a two-day congress to discuss reform, with an announcement expected on Thursday.
The reforms to be voted on by members of its executive committee in Zurich include proposals for greater financial transparency and 12-year term limits for the president and executive committee members.
A drop in sponsorship income and money spent on legal bills leaves the organisation set to report a loss for the first time since 2001.
Out of 14 tier one and tier two partner slots, only seven are currently filled.
Fifa marketing director Thierry Weil said: "We are realistic, and understand that until reforms are passed at the extraordinary congress, and a new president is elected, that it will be challenging to sign new partnerships."
A Fifa spokesman said the deficit was a forecast rather than a final figure and could still be altered.
Fifa's suspended president Sepp Blatter has always denied any wrongdoing. In September he too was made the subject of a Swiss criminal investigation, launched alongside the US inquiry.
The US has indicted a total of 14 current and former Fifa officials and associates on charges of "rampant, systemic, and deep-rooted" corruption following a major inquiry by the Federal Bureau of Investigation.