FA Cup second round: Five stories to look out for
Last updated on .From the section FA Cup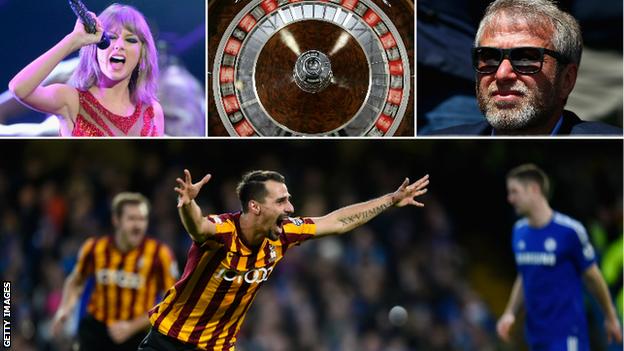 Turkey is on the menu, afternoon football is floodlit and the minnows of the game are trying to topple sides with giant-killing reputations - it can only be the FA Cup second round.
Salford City, co-owned by five ex-Manchester United players including newly appointed Valencia boss Gary Neville, are one of 10 non-league clubs still standing in this season's competition and get the action under way on Friday when they host Hartlepool.
BBC Sport takes a look at some of the characters and stories behind those clubs hoping to book that dream third-round tie against Premier League opposition.
Plotting to down a giant-killer
Bradford City v Chesham United (Sunday, 14:00 GMT)
Chelsea's astonishing exit to Bradford City in January is the essential giant-killers' guide which Chesham United have been busy studying since the FA Cup second round draw was made.
Inspiration will be staring Andy Leese's non-league side in the face when they travel to Valley Parade on Sunday.
To beat the Bantams, a side 104 places above them in the English football pyramid, the Generals will have to emulate the very mindset that produced Bradford's famous 4-2 win at Stamford Bridge.
"They were very much the underdog and I'm sure there was some psychology in that which we will have to try to buy into a little ourselves," Leese told BBC Radio London.
It has been 35 years since Chesham, based in the Chiltern Hills of Buckinghamshire, last reached this stage - going as far as the third round in 1979-80 when they were eventually beaten by Cambridge United.
Leese said getting past Bristol Rovers in the first round last month - their fifth win in the competition already this season - was "surreal" and added that they are allowing themselves to dream of a glamorous third round tie.
"After the Bristol game we have had to pinch ourselves," he continued.
"It is just fantastic to be at this level. It is the holy grail for a lot of managers at my level and below to get to the round we got to previous to this. We are just going to make the most of where we are, but we not just going to roll over and enjoy the occasion.
"We can dream a little bit, that is only right. We have earned the right to dream of what might happen, but we have to execute a game plan for that to become reality."
Shirt and tie not included
Oxford United v Forest Green Rovers (Sunday, 14:00 GMT)
Members of Oxford United's boardroom may be forgiven a double take when they meet National League side Forest Green Rovers.
The man with a Mohican haircut, earring, jeans and boots is in fact Dale Vince, the owner of the opposition. "Should anyone have to wear a shirt and tie in this day and age?" Vince told BBC Points West.
It's the only obstacle the enigmatic owner has faced in football. "I don't own a tie, some clubs have a dress code and can be a little sniffy".
While Sunday's trip to the Kassam Stadium may represent a big tie for the Gloucestershire village club, it does not daunt Forest Green's ambitious owner.
He has plans for a new £100m stadium development and believes the Championship is a realistic target for the club. Oh, and he's also introduced a vegan-only menu at their Nailsworth home.
"I couldn't be happier," he said. "We're halfway through the season, one point shy of the top, in the second round playing Oxford United on Sunday. What more could we want? Life is good."
And if they manage to overcome their League Two opponents at the weekend, non-league's Roman Abramovich knows who he wants: "Chelsea look vulnerable," joked Vince. "But any big team would be great."
Rare home tie for the Grecians
Exeter City v Port Vale (Sunday, 14:00 GMT)
Imagine you're playing roulette and the ball always landed on black, and you kept backing red. Well that's exactly what's happened to Exeter City in the FA Cup for the past eight years.
This weekend's meeting with Port Vale is just the second time the Grecians have been drawn at home since a first-round tie against then-non-league Stevenage in November 2007.
In that time they've been drawn away on nine occasions, so when Exeter's number finally came out of the hat first for this second round draw, there were notable sighs of relief all around the city.
"It was only matter of time before we drew a home tie," manager Paul Tisdale told BBC Sport.
"And it's only a matter of time before we win a couple of games because we've had a poor run in the FA Cup up until this year and we're hoping we can make amends."
Defeats by non-league sides Warrington Town and Curzon Ashton, along with three separate losses to Bury, have meant Exeter have not made the third round since January 2005, when they famously held Manchester United to a 0-0 draw at Old Trafford before losing out to Rooney, Ronaldo, Giggs et al in a replay.
"It's about focusing on this round and making sure you win that. You can't draw a third-round big one unless you've progressed through to the third round," said Tisdale.
Exeter's life on the road

Oct 27, 2007:

W 3-1 v Ebbsfleet (A)

Nov 10, 2007:

W 4-0 v Stevenage (H)

1 Dec, 2007:

L 1-0 v Bury (A)

Nov 8, 2008:

L 3-2 v Curzon Ashton (A)

Nov 7, 2009:

W 4-0 v Nuneaton (A)

Nov 28, 2009:

L 4-3 v MK Dons (A)

Nov 6, 2010:

L 2-0 v Bury (A)

Nov 12, 2011:

D 1-1 v Walsall (H)

Nov 23, 2011:

L 3-2 v Walsall (A)*

Nov 3, 2012:

L 1-0 v Bury (A)

Nov 9, 2013:

L 2-0 v Peterborough (A)

Nov 7, 2014:

L 1-0 Warrington (A)

Nov 8, 2015:

W 3-0 v Didcot (A)

Dec 6, 2015:

v Port Vale (H)

* Replay
Sparkler-waving ultras
Dagenham & Redbridge v Whitehawk (Sunday, 14:00 GMT)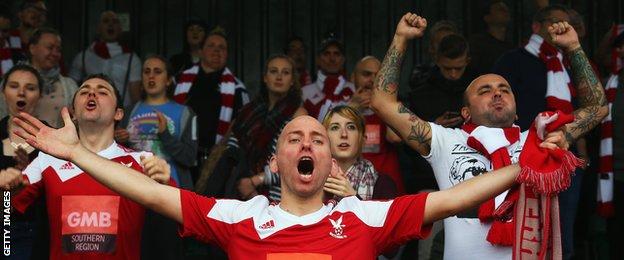 No flares, no drums, no worries.
When it came to starting Whitehawk's ultras support, Rory Milton started modestly - with a sparkler, candle and three friends behind the goal at the Enclosed Ground.
"We wanted to pretend to live the European ultras' lifestyle with the flares and stuff," Milton told BBC Sussex. "Unfortunately we didn't know where to go to get hold of any of those."
Five years on and to the beat of a few drums, scream of air raid siren, and Taylor Swift and Spandau Ballet tunes, the ultras of Brighton-based Whitehawk have packed a coach with 150 fans for their FA Cup second-round tie at Dagenham & Redbridge.
Whitehawk manager Steve King praised the club's "amazing" fans after the National League South side reached round two for the first time in their history after getting past Lincoln City 5-3.
"You can now bank regularly on 80 to 100 of us behind the goal every single game and we travel all around the south with the club," added Milton.
"We are all gearing up for our big game and have guaranteed around 150 people on the coaches, more than we used to have as average attendances for home games when I first started coming to the ground.
"It has just grown and grown. We make sure it is all inclusive, we sing sillier songs than I've heard anywhere else, and we make sure that everyone is welcome. We fly rainbow flags, transgender flags, we will make sure that anyone that wants to watch football in a safe, comfortable and friendly environment can do so.
"As far as I'm aware we are the first to put Taylor Swift and Spandau Ballet to terrace songs."
Victoria rules again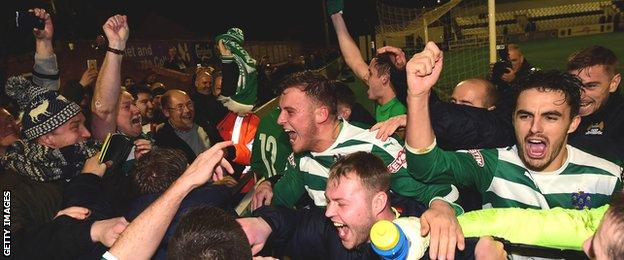 Northampton Town v Northwich Victoria (Saturday, 15:00 GMT)
"Northwich Victoria are back". So goes the chants of the non-league club's faithful as the lowest ranked side remaining in this year's competition prepare to face Northampton Town, of League Two, on Saturday.
The second round of the FA Cup is nothing new for the Vics. They beat three Football League sides to reach the fourth round in 1976-77 and made a third-round trip to Sunderland's Stadium of Light in 2006.
Northwich are also a club that have lived a nomadic lifestyle after selling Drill Field, their home of 127 years, in 2002, and have since gone into administration twice and subsequently tumbled down the non-league football pyramid.
This year they have moved back into the town, groundsharing with Witton Albion at Wincham Park, and are enjoying good league form to go with their cup run, as Jim Gannon's side sit top of the Northern Premier League Division One North table - English football's eighth tier.
"The fans sing that we are back. We are not just back in the town now, but we are also back in the real rounds of the FA Cup and are putting Northwich back on the map as well," Gannon told BBC Football Focus.
The Vics boss said it has been impossible to escape the excitement that the club's latest cup run has generated as it evokes memories of glories past.
"Officials of the club remind me of it, they were heady days, fantastic for the club as far as profile and revenue and giving everything a boost in the town," Gannon added.
Additional reporting by Brent Pilnick and Nabil Hassan.
The FA Cup first round on the BBC
On Saturday, Football Focus will be live from 12:10 GMT at Stourbridge ahead of their tie against Eastleigh.
FA Cup Final Score will show all the key action as it happens from eight selected matches on Sunday.
Every goal from every match will be available on the BBC Sport website and app as part of the BBC's extensive digital coverage, providing fans with action as early as 17:15 GMT on Saturday.
There will also be a comprehensive 60-minute highlights show on BBC Two on Sunday at 18:00 GMT.
BBC local radio will also provide full-match commentary across the weekend's ties through the BBC Sport website.