50 goals and 46 fans: Non-league Ashley Flynn scores a half century
Last updated on .From the section Football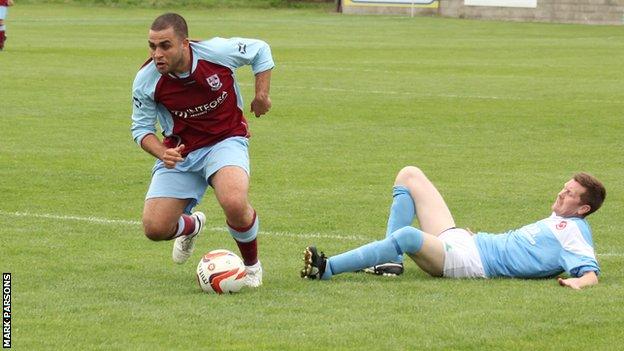 A non-league striker has eclipsed the goalscoring records of Jamie Vardy, Robert Lewandowski and Cristiano Ronaldo with his 50th goal of the season.
It may be only December, but Ashley Flynn is halfway to a century of goals in just 28 games.
Flynn, 26, plays for AFC Emley, in the Northern Counties East Football League Division One - the the 10th tier of English football.
His incredible run started with two goals against Rossington Main on 8 August and he has gone on to score six hat-tricks and twice managed five goals in a single game.
The landmark 50th goal came on Wednesday in a 3-2 away win over Bottesford Town in the NCEL league cup.
"I was not thinking about it at the time - it was a cup game and I wanted to win," said Flynn, who works as a litigation executive at a solicitors in his home town of Huddersfield.
"It was only when I scored and the lads congratulated me that I realised what I had achieved."
How Flynn compares with Europe's hotshots

Ashley Flynn (AFC Emley)

Jamie Vardy (Leicester City)

Robert Lewandowski (Bayern Munich)

Cristiano Ronaldo (Real Madrid)

50 goals (28 games)

14 (14)

22 (20)

17 (22)
Record breaker
In just four months Flynn has already broken the NCEL Division One scoring record of 45 goals, which was set by Marcus Edwards of Eccleshill United in the 2013-14 season.
He is now just six strikes short of the overall NCEL record of 56 goals, achieved by Heanor Town's Kieran Debrouwer (Heanor Town) while playing in the Premier Division in the 2013-14 season.
Next stop 100?
Flynn detached his retina after joining Sheffield Wednesday as a 14-year-old and did not return to football until he was 17 - signing for Frickley Athletic, then in the seventh tier of English football.
He is in his second spell at West Yorkshire side Emley having scored 42 goals in his debut season in 2013-14.
He returned to the club from Shaw Lane last season and scored 16 goals in an injury-hit campaign.
"I am not even thinking about getting 100. I it is all about getting promotion and silverware - that would mean more to me.
"I would happily not score again this season if it meant we got promoted."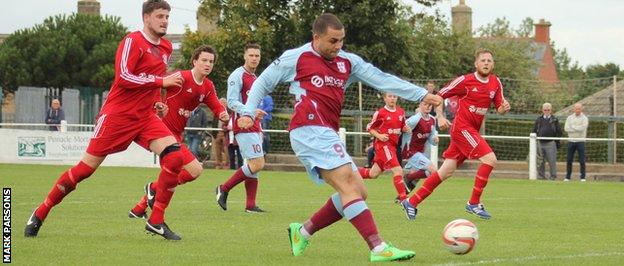 'My phone went nuts'
Flynn said he could have reached his half-century on Saturday against AFC Mansfield, but having scored a hat-trick and then found himself through on goal with just the keeper to beat he passed to a team-mate, who missed.
His manager Darren Hepworth made him captain for Wednesday's match and Flynn scored the opener in the 25th minute in front of a crowd of just 46.
"It has sunk in now. Before I was just scoring and not thinking about it, but everyone at the club and all my friends would talk about it when I scored my 25th, then 30th and 40th goals.
"After the game my phone went nuts - I had about 300 tweets and 200 Facebook messages.
He added: "It's a bit weird getting all the attention and I realised what a great achievement it is, but I just love playing football and scoring.
"We had a two-hour drive home after the match so there weren't any celebrations. We have a home match against Shirebrook Town this weekend and I want to get the 51st and keep the run going."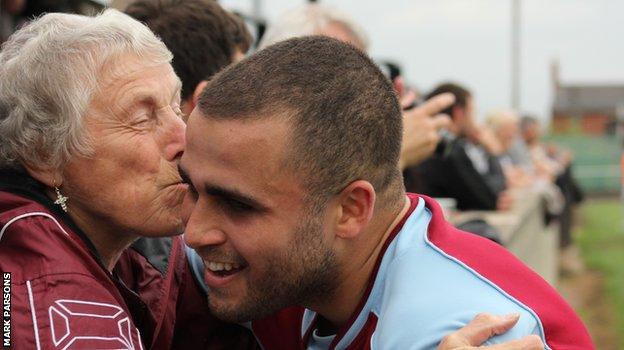 'We set him a target of 25 goals'
Emley have scored 112 goals this season, with Flynn netting almost half of those.
Hepworth says the player has stayed loyal, despite offers from other clubs.
"For him it was not about the money. He is committed to the club and helping us get out of the division.
"It's phenomenal what he has achieved. I set him a target of 25 goals and he had done that by September so we had to throw that target out. He may grab the headlines but the rest of his team-mates deserve the same amount of credit.
"I have never seen anyone who strikes a ball as well as him, he has the natural ability to be in the right place at the right time, and he remains calm and calculated. When people come and watch him they expect a Messi or a Ronaldo, but he is not that player, he thrives on chances we create and is lethal with his finishing.
"I think if he stays injury free, you never know, a ton could be on the cards."