Tokyo Sexwale: Shirt sponsorship could help poorer nations
By Oluwashina Okeleji
BBC Sport
Last updated on .From the section Football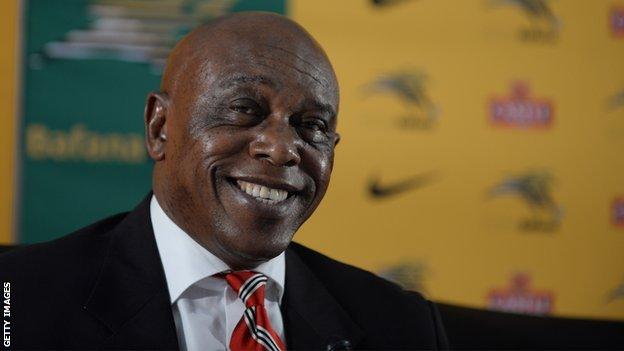 Fifa presidential candidate Tokyo Sexwale believes allowing sponsorship on national team shirts could help cash-strapped federations.
The South African businessman mooted the idea in his published manifesto as potentially one of the ways to address the financial imbalance in world football.
"I think the time has come for us to open our minds to the possibility of having national team jerseys carry sponsors," the 62-year-old told BBC Sport.
"After all, jerseys carry sponsors right now. Fifa has got a so-called 'clean jersey approach' for the national teams but they carry manufacturers' names - so they are not clean.
"The big, rich associations may not need shirt sponsorship but for the poor countries the money from sponsorship could change the ball game completely.
"When you go to countries such as Lesotho, Swaziland, Chad, Haiti and Nepal it's not the same as in the bigger countries with money. These nations have nothing and they all feel like they need money because they operate on a shoestring budget.
"Extra revenue, which could be in the millions, would do a lot to help them move away from running football from the boots of their car."
Sexwale admits that national team jerseys are seen as sacrosanct in many people's eyes but insists that it is only an idea that is open for discussion.
"It is not a dictatorial and undemocratic decision, it must be a consultative decision," he said. "It should be a democratic decision and nobody should be forced.
"In Europe I spoke with the Nordic countries and there are people who are very steadfast that the flag of the country must not be soiled and the jersey must be clean.
"I completely understand but let it be a choice, a democratic issue is what I am bringing forward."
Sexwale is aiming to make history by becoming the first African to head world football's governing body in its 111-year history.
He remains confident that he has the backing of the entire continent ahead of the election to determine Sepp Blatter's successor at a special congress on 26 February 2016.
He added: "I have spoken to the continent's representatives at the Confederation of African Football meeting in Cairo, I think for the first time Africa has a chance to show the world that we are united and not divided.
"Africa is a deal maker and a deal breaker. Like we did at the 2010 World Cup in South Africa, we have a chance to show the world that we are capable of providing leadership."
Sexwale has been a member of Fifa's anti-discrimination task force, has conducted talks between the Palestinian and Israeli federations, and was a member of the bid team and the organising committee for the 2010 World Cup - the first held in Africa.