Rangers: Mark Warburton 'absolutely committed' to Ibrox club
Last updated on .From the section Football
Manager Mark Warburton says he is "absolutely committed to Rangers" amid interest from Fulham.
"There's no interest, nothing official, no approach," the Englishman insisted.
"It's just speculation. You're only linked to jobs if you're doing a half-decent job. It's testament to the work of the players, their results."
And Rangers said in a statement: "Following almost a week of speculation Rangers would like to make it absolutely clear that no clubs have been in touch seeking permission to speak with our manager Mark Warburton.
"The club cannot prevent speculation but Rangers fans can be assured that Mark's commitment to the job he has started with Rangers remains total, as he himself has already made clear."
Warburton, who guided Brentford to promotion to the Championship in 2014, moved to Ibrox in the summer and has led Rangers to the top of the Scottish Championship.
"I'm the Rangers manager and I've made it very clear that I'm absolutely committed to Rangers," he said.
"It's very important that any media outlet has journalistic integrity, does their homework, investigates and substantiates. Once that's done, and it's proved correct, absolutely, but until that point it's disrespectful to me.
"I've answered the questions four or five times. I can't keep answering them. No-one listens to what I'm saying. I'm the Rangers manager, delighted to be here, absolutely committed.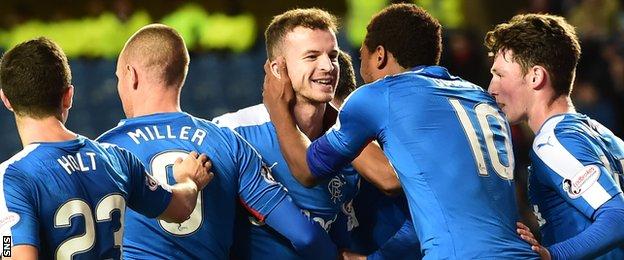 "It's disrespectful to me, Rangers, to our supporters - who deserve better - and to a club, in this case you're saying Fulham. Categorically, absolutely that's not the case.
"It's always flattering to be linked to jobs. To comment any further is inappropriate and totally incorrect.
"My focus is here, the football department. I get irked when people don't listen to the very clear message I've sent out on repeated occasions."
Warburton has previously spoken to chairman Dave King about the possibility of adding to Rangers' squad in January and the manager described his squad as "fairly thin".
"Good managers always go to the board and ask," he explained. "We always talk. Our job is to go and ask.
"If you don't ask, you don't get. We keep going there with players we think will add value to the current squad. If we can secure them, fantastic, if not we keep fishing."
Warburton admits "it's intense" being at a club like Rangers and added: "I understand, it's a massive club.
"I have no problem with that. My frustration comes when it's disbelief in what I'm saying."