Kevin Nicholson: Torquay United have 'another pre-season'
By Brent Pilnick
BBC Sport
Last updated on .From the section Football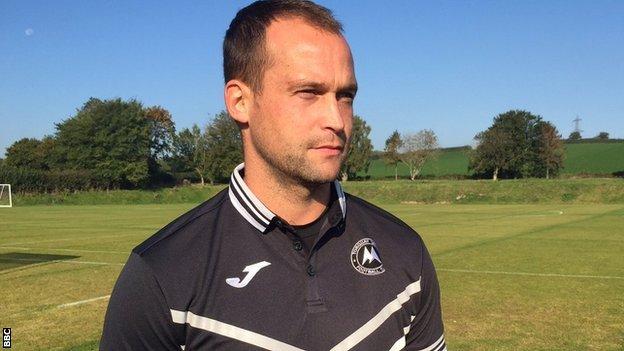 Torquay United manager Kevin Nicholson says his side's fitness levels were so low when he became manager that they have effectively had another pre-season.
The Gulls have won just once since Nicholson took over as player-manager in September after Paul Cox resigned.
"For me now they've had, in effect, their pre-season," Nicholson told BBC Sport.
"They are so much fitter than they were when we first came in."
Despite the run of form, Nicholson was buoyed by a 0-0 draw at Braintree last week.
"When we kept that clean sheet at Braintree you could see that we were still going at the end of that game," he added. "That will be the hallmark of my teams, we will always have that physical edge on other teams.
"I'm very happy with how the players have taken to that, they've worked incredibly hard physically."
And Nicholson says he is trying to ensure that his side, who are five points from safety in the relegation zone of the National League, stay at the levels he expects of them.
"Generally in football people do what they did 30 years ago, and sports science, diet, nutrition has all moved on," he said.
"We have a session every Wednesday at the gym now and it just lifts me because they look like athletes now.
"That's their pre-season down, they're now starting to learn their positions again and doing the basics.
"We've had to re-educate them, and I expect now if I speak to my players they can tell me exactly what's expected of them and that fills me with a lot of hope and a lot of positivity."