Gary Neville: New Valencia boss could not turn down offer
Last updated on .From the section European Football
New Valencia boss Gary Neville said he would have lost all credibility if he had rejected the chance to manage the Spanish club.
The former Manchester United defender turned pundit said he had turned down other managerial jobs since retiring.
"I'm precious what I associate myself with," said Neville, 40, who has his brother Phil on the coaching staff.
"Sitting on the television over the last few years, it is time now to stand up," he added.
Neville, who has been part of the England coaching set-up under manager Roy Hodgson, has been appointed until the end of the season, despite having no previous managerial experience.
Peter Lim, owner of the La Liga club, also has a stake in English non-league side Salford City, co-owned by Neville.
"When I received the call about Valencia on Sunday evening, I thought 'what a football club, what an opportunity, what a challenge'," he said.
"If I turned down this job I could have kissed goodbye to my credibility."
Is it a 'risky appointment'?
The former England full-back officially takes over on Sunday, following Valencia's league game against Barcelona on Saturday.
His first match in charge will be Wednesday's Champions League home match against Lyon.
"I think we've all seen inexperienced coaches succeed and experienced coaches fail. There is no magic formula." added Neville, speaking in his first news conference as head coach.
"I accept I've got to prove myself and turn the doubters who say it is a risky appointment.
"I understand why these questions are being asked and I have to provide the answers on the football pitch in the coming months."
Neville replaces Nuno Espirito Santo, who resigned after Sunday's 1-0 defeat at Sevilla, a result that left Los Che ninth in the Spanish league.
The club finished fourth last season, but have won only five of their 13 league matches this term.
How long will he stay?
Neville says he does not view his new job as a short-term role, even though he has only signed an initial contract until the end of May.
"I think the only way to approach any football job is to approach it as a permanent job, even though we know it is a six-month contract," said Neville, who added that his family would also be moving to Spain.
"Every decision I make will not be a short-term decision. I cannot work that way and won't work that way.
"I'll appoint from within, I won't bring over an army of coaches. I want to bring stability."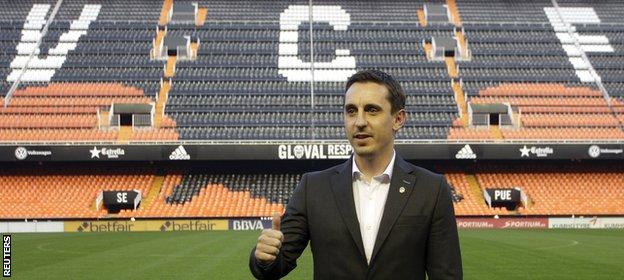 What would Neville the pundit think?
Neville has been working as a television pundit since 2011 and admitted, in that role, he would question the appointment of a foreign managerial novice who did not speak the language in his new country.
"I would be sceptical and would want to be proven otherwise," he said.
"I understand that I've got to prove to the Valencia fans and players that I'm capable of doing this job.
"For anyone who has concerns, those concerns will only be removed by winning football matches."
The Neville brothers back together
Neville confirmed that his brother Phil, who joined the Spanish club as assistant manager in July, will be part of his coaching staff.
"If Philip wasn't here I would want him here. He is diligent, hard working and talented and I'm delighted he is here to be part of the coaching set-up," said Neville.
"There is no element of negativity at all. The professional way we have worked over the last 25 years as players and now as coaches is not a problem."
Former Valencia winger Miguel Angel Angulo will also step up from his role as youth team coach to join Neville's coaching staff, the Englishman added.
'Support from Sir Alex, inspired by Hodgson'
Neville said he did not consult Sir Alex Ferguson before deciding to take the Valencia job, but added he has spoken to his former Manchester United manager in the past few days.
"I had a good conversation with him, and he offered words of encouragement and support," said Neville, who made 602 appearances for United under Ferguson between 1992 and 2011.
"I'd be stupid not to accept that. Not just from him but from Roy Hodgson and other managers who have experience of La Liga.
"When I spoke to Roy, he was incredibly supportive and positive. I was inspired by the conversation I had with him.
"He understood the opportunity and was wholly supportive."