Hearts: Tynecastle development will help squad - Robbie Neilson

By Brian McLauchlin
BBC Scotland
Last updated on .From the section Football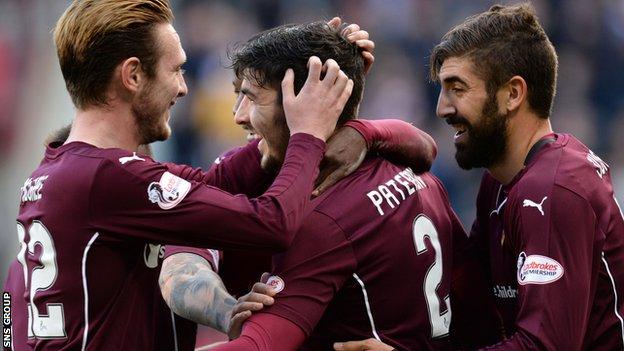 Head coach Robbie Neilson says the planned construction of a new main stand will help Hearts attract better players in the long term.
On Thursday the Edinburgh club announced plans to redevelop Tynecastle and increase the stadium's capacity.
And Neilson thinks enhanced facilities will make more money available to invest on the park.
"When the new stand is built it will give us more revenue to spend on the squad." Neilson told BBC Scotland.
"You have the reputation of the stadium and the atmosphere it creates, the intensity of it.
"The old stand has been there for a long time.
"There's not a lot of space for corporate guests or scope to rent the stadium out for different events. A new stand will bring in a huge influx of revenue."
Neilson also said the building of an improved training complex at Riccarton will help add to the attraction of joining Hearts.
"The whole package for players is great," Neilson added. "When they first come over we always show them around the stadium and the training ground then take them into the city. You have that aspect of it.
"Training facilities are a big draw to players. They want to come and become better players and develop and all the facilities are here for them."
Director of football at Tynecastle Craig Levein told shareholders on Thursday that their ambitions lie way beyond just finishing in a top six position but Neilson played that down.
"The aims have always been to be in the top six. We are ahead of schedule at the moment and we would like to continue progressing up the league and first and foremost secure top six and get as high as we can."
After running away with the Championship last season, Neilson insists there has to be a realism about expectations this season.
"We can't just expect to be promoted and the first season and waltz into a top three position," he said. "We have to build and work hard and progress slowly and we are doing that at the moment.
"We are in the middle of a difficult period at the moment having dropped four points in our last two games, with a difficult December coming up."