Forest Green Rovers: Owner Dale Vince defends club debt
Last updated on .From the section Football
Forest Green Rovers owner Dale Vince has defended the club's £5.4m debt, insisting it is sustainable.
The club posted losses of £2.5m and £2.9m in the last two seasons.
However, Vince believes investment in infrastructure and the playing squad as well as a need to address existing debt has given the figure a distorted look.
"We've probably reached peak losses," Vince told BBC Points West. "It's like any business really, you've got to invest to get to where you want to be."
Forest Green, who were promoted to the Conference in 1998, are currently second in the renamed National League and the club also have plans for a new £100m sports facility, which will include a new stadium.
Vince, who took over in 2010, believes their playing budget is similar to the majority of clubs in the division.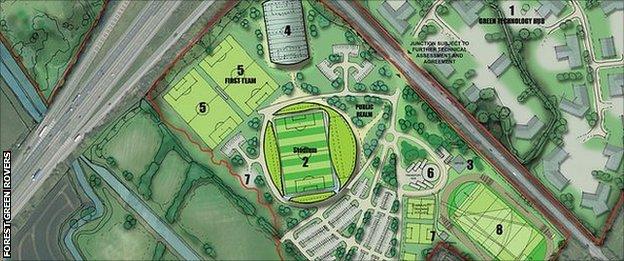 "There are plenty of clubs in this league with our kind of money and our kind of budget," he said.
"The focus has been on us as we are a bit of a village club and it's unexpected, but there is no way our budget and our means is out of proportion to at least a top quarter of the teams.
"It's a very competitive league, it's half full of ex-league clubs with big crowds and big ambitions.
"At all levels football relies on benefactors. Football is not a business, only a few make money such as Manchester United but at most levels it takes investment, belief and time to get the infrastructure right."
Vince believes promotion to the Football League as well as the move to the new site will make a significant difference to the club's finances.
"The new site is important but getting into League Two is more important," he added.
"I think from next year League Two clubs get £1m a year and in this league you get nothing so to become financially sustainable getting into League Two is a massive part of that. When we achieve that, overnight we'll be running at virtually break even."