Leeds United 'pie tax': Group of fans plan walkout in protest
Last updated on .From the section Football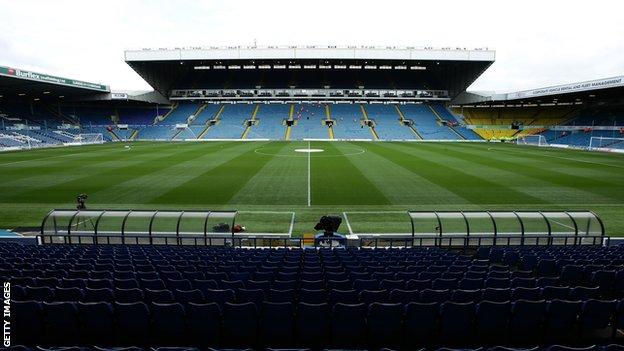 A number of Leeds fans are planning to temporarily walk out of Saturday's home match against Hull City after 17 minutes to protest against a 'pie tax'.
Supporters in the South Stand are unhappy that ticket prices in that area of the ground are being raised by £5 to incorporate a 'meal deal' voucher.
Leeds owner Massimo Cellino is known to dislike the number 17.
Fans' group South Stand SS5 plan to leave their seats for 17 minutes to protest against the increase.
Organiser John Bond said: "We want to make it very clear to Cellino that he is not wanted. The way he runs the club is outrageous and we want our club back."
Leeds manager Steve Evans urged fans to call off their protest.
"The one thing we need from our fans is for them to be with us collectively," said Evans.
"Divided you don't have a chance. So talk of a 17-minute long walkout after 17 minutes doesn't help."
Cellino was banned by the Football League in October, having been found guilty of an offence under Italian tax legislation, but his ban has been deferred pending the outcome of his appeal.
In early November, the Italian changed his mind after announcing he was willing to sell his majority stake in the club to supporters.
Leeds are 17th in the Championship, having only taken 19 points from the first 18 games of the season.