Gary Neville: Manchester United to keep close eye on Valencia boss
Last updated on .From the section Man Utd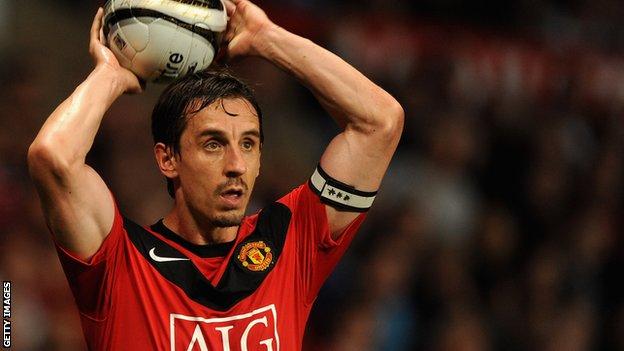 Manchester United will be keeping a close eye on Gary Neville's progress during his time as manager of Valencia.
But senior Old Trafford figures are starting to turn their attentions to finding a successor to the 64-year-old Dutchman, whose deal expires in 2017.
Neville and assistant Ryan Giggs will come under consideration.
Between them, the only experience the pair have in a full management role are the four games Giggs took United for in 2014 after David Moyes had been sacked.
Giggs said he was not ready for the job full-time and instead became Van Gaal's number two, while Neville will take his first game in charge of Valencia against Lyon in the Champions League on Wednesday.
United sources have noted Giggs' improvement in the last 18 months and now wait to see how Neville adapts to his first senior management role, with Van Gaal and executive vice-chairman Ed Woodward getting in touch directly with the 40-year-old to wish him well.
The club know that when a replacement for Van Gaal has to be found, there will be experienced candidates eager to take on the role.
However, it has been noted that some may not have Premier League experience, while Neville and Giggs 'triple tick' one of the major prerequisites for the job which the BBC has been told, namely a knowledge of Manchester United.

Backing for Van Gaal is significant.
While it is accepted United have not been hugely attractive to watch this season and a group-stage Champions League exit would be a blow, faith in him remains strong.
After cutting Moyes' reign short after only eight months, United do not want to be seen as a club who act on a whim.
They feel criticism from supporters has been blown out of proportion. Significantly, no player has been to see the hierarchy to complain about Van Gaal's methods, including team meetings which it has been suggested are the cause of disquiet in the dressing room.
It means Van Gaal will be given funds to strengthen his squad, both in January and next summer, although the club accept the chances of completing the kind of stellar transfer envisaged following Sir Alex Ferguson's exit are not high.
United have both the funds and the desire to make such a signing.
However, after numerous links to Cristiano Ronaldo, Gareth Bale and Neymar, it is now accepted getting the very best players to England is difficult.
And there is a perception even the second rank of players might prefer to play in the less physically demanding leagues of Italy, Germany and Spain.