December date for Blatter & Platini Fifa ethics judge hearings

By Richard Conway
BBC Radio 5 live sports news correspondent
Last updated on .From the section Football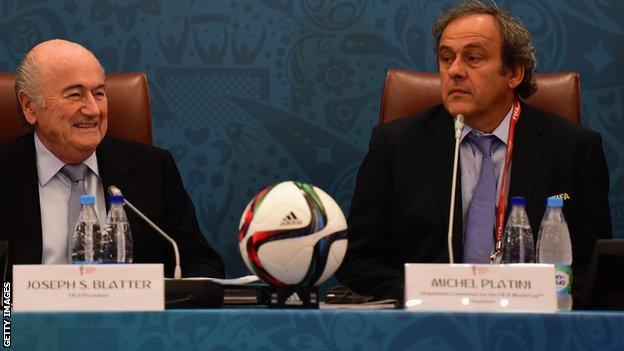 Fifa president Sepp Blatter and vice-president Michel Platini are due to attend personal hearings with Fifa's ethics judge starting on 16 December.
The suspensions were imposed following allegations a £1.3m "disloyal payment" was made between them in 2011.
Final verdicts could be published as early as Monday, 21 December.
Both deny wrongdoing and claim they had a verbal contract for Platini to receive backdated money for work he carried out for Fifa between 1998 and 2002.
The BBC has learned the hearings will take place before the Fifa ethics adjudicator Hans Joachim Eckert at an undisclosed location.
Both men will have separate hearings which, taken together, could stretch over three days.
Both are entitled to bring legal teams with them.
Blatter is likely to be represented by Richard Cullen of US law firm Maguire Woods, or Swiss lawyer Lorenz Erni, with Platini bringing Thibaud D'Ales who works in the Paris office of Clifford Chance.
Last month Fifa's ethics investigators submitted a final report into the claims against the men, which include mismanagement and conflict of interest rule breaches.
Lawyers for Platini say investigators have recommended a life ban for the Frenchman. It is unknown what punishment was suggested for Blatter but any guilty verdict would bring an ignominious end to his long career at Fifa.
Both men can seek appeals against guilty verdicts with the Court of Arbitration for Sport.
Platini still hopes to be a candidate in the Fifa presidential election on 26 February.
However, he will only be entitled to enter the ballot if he clears his name in sufficient time prior to polling day.
Blatter is unwilling to accept any guilty judgement against him, believing only Fifa's 209 member nations can remove him from the presidency.