Newcastle 2-0 Liverpool: Win averted crisis - Steve McClaren
Last updated on .From the section Football
Newcastle boss Steve McClaren said his team avoided a crisis thanks to their surprise 2-0 win over Liverpool.
The Magpies moved above neighbours Sunderland into 18th place in the Premier League and are in the bottom three only on goal difference.
"It's absolutely huge, absolutely massive," McClaren said of their third league win of the season.
"Once or twice we've taken ourselves to the brink of crisis and clawed our way back and that's what we've done today."
McClaren had come under increasing pressure after Newcastle lost 3-0 to Leicester and 5-1 to Crystal Palace in their previous two games.
There were also reports of angry exchanges with players in the build-up to the thrashing at Selhurst Park.
But Georginio Wijnaldum had a shot deflected in by Liverpool defender Martin Skrtel and then scored a well-taken injury-time goal on Sunday, and McClaren hopes the vital win will "flick a switch" for his players.
"That's the frustration of this job. You know what they can do, it's just confidence and belief," he added. "We looked very nervous at the beginning, the crowd looked nervous, but we grew into the game."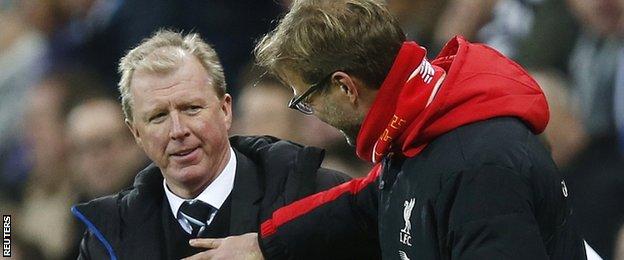 'We outworked Liverpool and crawled off the field'
McClaren said the victory was down to "outworking" Liverpool, with Newcastle covering more distance and performing more sprints - albeit marginally - than Jurgen Klopp's team, who are renowned for their pressing game.
"When we get results, we have crawled off the field. We have done that today but we need to do that every week," McClaren said.
Liverpool full-back Alberto Moreno was wrongly denied by an offside flag with the hosts leading 1-0.
McClaren added: "It's an old cliche but the harder you work the luckier you get. Everything evens itself out and it's about time we had some decisions."
Klopp wants the 'dirty points'
Klopp said his side were "not aggressive enough" as they lost for a second time in the 12 games since the former Borussia Dortmund boss took over at Anfield on 8 October.
"I think we deserved a point maybe but not more because we didn't play well enough," he said. "I like to take the dirty points too - it's no problem. If Alberto's goal was given it was 1-1 then the game can change. Until then we didn't play as good as we wanted to.
"I have to watch the game again. From the first second, we were not really in the game."
Klopp also played down his team's Premier League title chances after the defeat ended a run of seven wins in eight games in all competitions.
Liverpool remain seventh in the table, six points behind fourth-placed Manchester United, and nine points behind leaders Leicester.
"I'm sorry if somebody is disappointed," he added. "We are not part of this discussion. We only try to play football and sometimes it looks better, sometimes worse.
"It was not a holiday game, I would say. I hope people did something better than watching this game. It wasn't the biggest fun."