Garth Crooks' team of the week: Cech, Shaqiri, Shawcross, Kante

By Garth Crooks
Football analyst
Last updated on .From the section Football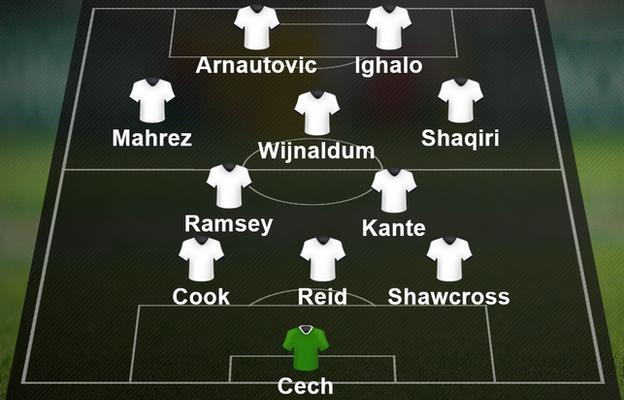 Another Premier League weekend, another stunning win for leaders Leicester City.
Jamie Vardy's magnificent goalscoring run may have come to an end in the 3-0 win at Swansea but team-mate Riyad Mahrez weighed in with a hat-trick and is joined in my team by midfielder N'Golo Kante.
Stoke City were also in excellent form as they shocked Manchester City with a high-energy start, and Bournemouth moved out of the relegation zone with the latest costly defeat for defending champions Chelsea.
Newcastle also picked up a much-needed win at the foot of the table and Arsenal kept up the chase at the top,
But who else stood out? Here's who I've gone for in my team of the week...
Goalkeeper - Petr Cech (Arsenal)

If Arsenal do happen to lift the Premier League title, it will be partly down to the awful performances of some of the best teams in the country and partly down to the brilliance of Petr Cech. Arsenal were ordinary against a Sunderland side who appear to be making steady progress under Sam Allardyce.
In fact, had Fabio Borini beaten Cech in the game's opening exchanges this match might have had a different outcome entirely.
That Jose Mourinho sold Cech to his arch rivals is one thing, but then consider that Mourinho sold Cech to his nemesis Arsene Wenger, who might go on and win the title with Mourinho's once prized possession. It is bordering on the unthinkable.
Defender - Ryan Shawcross (Stoke)

Stoke City have not conceded a goal while Ryan Shawcross has been in the team since his return from a back injury. He was imperious once again against Manchester City who were clearly feeling sorry for themselves without the presence of key trio Vincent Kompany, Yaya Toure and Sergio Aguero.
Nevertheless Stoke fans would have loved to see the big spenders from Manchester getting short-changed by the Potters.
Defender - Winston Reid (West Ham)

This was a captain's performance if ever I saw one. The West Ham defender did everything apart from score the winning goal at Old Trafford and he nearly did that, hitting the post. The days of Manchester United rolling teams over in a blistering wave of attacking football seem to be over under Louis van Gaal.
Teams like the Hammers are beginning to realise that United's sedate brand of football actually gives the opposition a chance to assemble themselves, grow in confidence and mount a credible counter-attack. United were lucky to come away with a point.
Defender - Steve Cook (Bournemouth)

A touch by Steve Cook was enough to stop Chelsea midfielder Nemanja Matic from converting a header but that intervention was nothing like the ball he put back into the six-yard box for Glenn Murray to score the winner. The centre-back was involved in two moments that changed Bournemouth's fortunes.
Quite apart from the fact that Bournemouth ran 10 kilometres more than Chelsea, the Cherries thoroughly deserved their victory - regardless of what Jose Mourinho had to say.
Midfielder - Aaron Ramsey (Arsenal)

It's nice to see Aaron Ramsey back amongst the goals again. There can be no doubt in my mind that if Arsene Wenger can get Ramsey, Santi Cazorla, Francis Coquelin and Mesut Ozil all on the pitch together, and at the same time, the Gunners would be my odds-on favourites to lift the title.
As it stands Ramsey and Ozil are the two outstanding outfield players for the Arsenal at the moment in an otherwise utterly unpredictable Premier League title race. On the evidence of his performance against Sunderland, Ramsey was unlucky not to add to his tally and it looks like there are more goals in the locker.
Midfielder - N'Golo Kante (Leicester)

This guy was just dynamite. His ability to run with the ball at speed and spot the pass at the same time was just brilliant. What I admired most about N'Golo Kante's performance against a shattered Swansea was how direct he was.
He was not afraid to take Swansea on and look to expose their every weakness - and they had a few.
Leicester's victory away from home has yet again put another manager under extreme pressure. This is going to be a difficult week for Garry Monk but one I hope he survives - he's earned it.
Swansea have been punching above their weight for some considerable time. If owner Huw Jenkins wants better results tell him to put his hand in his pocket and improve his squad.
Midfielder - Georginio Wijnaldum (Newcastle)

That's more like it, Newcastle! It took a while for the Magpies to get their confidence back against an in-form Liverpool side but once they did they were worthy winners. If you have a top-class goalscorer and a team willing to work then anything is possible.
Vurnon Anita and Jack Colback did much of the work whilst Georginio Wijnaldum's second goal of the game was simply first class.
Last week I urged captain Fabricio Coloccini and manager Steve McClaren to reconcile their differences after media reports claimed that there had been a bust-up. Well, if bust-ups cause this sort of reaction in McClaren's dressing room then they should consider 'clearing the air' more often.
Winger - Xherdan Shaqiri (Stoke)

Xherdan Shaqiri's two throughballs to Marko Arnoutovic were simply gorgeous against Manchester City and the link-up play with fellow forward Bojan was just pure class. Full of tricks and invention, the Swiss international made life for City virtually impossible.
Many people were surprised Shaqiri picked Stoke City over other clubs this summer but the relationship he has forged with Arnautovic and Bojan suggests that he knew precisely what he was doing.
Winger - Riyad Mahrez (Leicester)

The hat-trick man won the game for Leicester at Swansea. His first goal was a bit of a fluke, his second goal might have been offside but his third was a sensational team effort. I must mention Jamie Vardy at this point because he set up Mahrez's third goal when he could have gone for a goal in a 12th consecutive game himself.
There seems to be such an extraordinary team ethic amongst the Leicester players at the moment; it seems to be dripping from every team member. It's just great to see direct, uncomplicated football reaping such fantastic rewards, instead of hearing from clever-clogs with clipboards and new wave soccer mumbo jumbo wittering on about how sophisticated the game has become.
All credit to manager Claudio Ranieri. He has kept Leicester's performances simple but effective.
Forward - Marko Arnautovic (Stoke)

He could have had five goals against Manchester City and should have definitely had a hat-trick. This was without doubt Marko Arnautovic's most emphatic performance since his arrival in the Potteries in 2013.
He terrified City and it was only the woodwork that prevented the forward from completing his treble. This was an impressive performance by the Austrian and he deserved the applause he was clearly milking at the end of the game.
What I didn't understand was his antagonism towards City midfielder Fabian Delph at the end of the game. He had won the game, was the star of the show - so just enjoy the victory.
Forward - Odion Ighalo (Watford)

I am not entirely sure where Watford would be without Odion Ighalo's contribution this season - he's been absolutely superb. He was brought down for the penalty which was beautifully dispatched by Troy Deeney before putting the game beyond Norwich with a superb individual effort.
Ighalo gave Norwich centre-back Sebastien Bassong a miserable afternoon.