Exeter City: Paul Tisdale praises unique FA Cup victory
Last updated on .From the section Exeter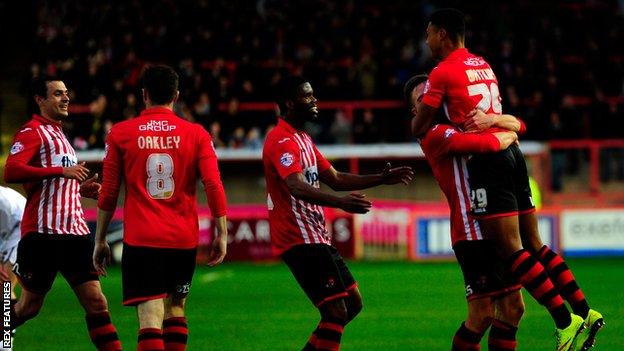 Exeter manager Paul Tisdale has said his side resorted to playing a unique formation in their FA Cup win over Port Vale following a number of injuries.
The League Two side overcame their League One opponents to reach the third round for the first time in 10 years.
"It was a bit of Rubik's cube trying to work out how we were going to play," Tisdale told BBC Radio Devon.
"We created a way to play today, the players played to their ability and it was a really good team performance."
Tisdale, who has never before reached the third round of the FA Cup as a manager, added: "I have never played a 5-0-5 before. I described it to the players as a schoolyard swarm.
"I told them to think back to when you're playing in the schoolyard and you all chased the ball, which is how we did it.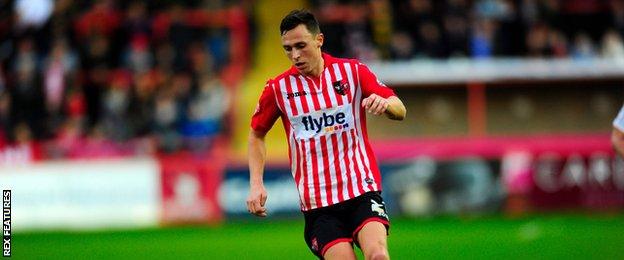 "We played it forward and all the players got close to the ball and reacted quickly and that is how I painted the picture today.
"The midfielders played slightly out of position, they had to do things differently in terms of their defensive work but we still managed to be an attacking threat."
It is the furthest the Grecians have progressed in the FA Cup since January 2005, when the League Two side took Manchester United to replay.
However, Tisdale has said the team's focus is solely on this season's competition and warned of the "danger" on continually reflecting on the team's efforts 10 years previous.
"It is not about what happened before but about what is coming next," he said. "We are in the next round and the anticipation is great, it is something to look forward to.
"We cannot cope with many more injuries though, I will be on the bench next - that's the way it is going."