Stewart Regan calls for summer football and artificial pitches rethink

By Chris McLaughlin
BBC Sport
Last updated on .From the section Football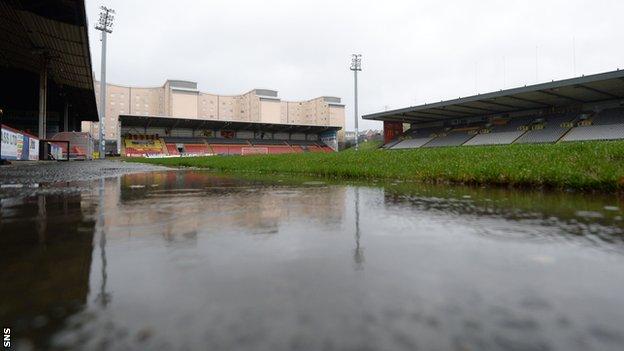 Scottish FA chief executive Stewart Regan has called for a rethink on summer football, artificial pitches and a winter break.
The issue was raised after more than half of Saturday's SPFL games were called off due to the weather.
Regan wants an earlier start to the season, which he also feels will help Scottish clubs in Europe.
"It's certainly time to have a look at what we can do to try and improve the experience for fans," said Regan.
A BBC Scotland survey in June found that three-quarters of Scotland's top flight clubs would consider summer football.
Some of the weekend games that did go ahead on Saturday were played on synthetic surfaces, albeit in dreadful conditions, and Regan said he is more open to clubs using them.
"Nobody likes missing games due to poor weather," he told BBC Scotland. "Nobody likes playing in those conditions, not least the kids, coaches, referees and so on.
"My starting point would be what is summer football? What do we mean by summer football? At what point do you start and finish your season?
"What I think we need to look at is perhaps some kind of mid-season break, where maybe we can start the season a little bit earlier. I'd take advantage of the good weather, the light nights. Finish the season around the same time or a little bit later, but have that break in the middle, possibly after Christmas."
The old Scottish Premier League had a winter break from 1998-99, but this was scrapped in 2002-2003.
"We have to look at the impact on clubs' cash-flow before deciding whether or not that's possible, and looking at perhaps how payments are smoothed out," continued Regan.
"I think there's an acceptance that there needs to be some degree of change. Something has to give. Something has to be done to try and deal with fixture congestion.
"We have something like a third of the clubs in the SPFL moving towards 3G pitches, either in place or planned, including clubs in the Premiership now. Hamilton and Kilmarnock both have 3G pitches. There are more 3G and 4G surfaces coming into the game.
"Our bigger clubs are keen to ensure they can be competitive in Europe and we need to consider their needs as well in making sure they are as prepared as they possible can be going into European fixtures."
The SPFL are set to announce changes to the League Cup format, however Regan has ruled out a European place for the winners being re-introduced.
"Across Europe the 54 countries already have a plan and that's for the winners of the domestic cup and the top ranked teams in the domestic league," he said.
"That's the format that we're working to and that seems to work for everyone else."