Neil Doncaster: Celtic v Dundee in America has merit for SPFL

By Phil Goodlad
BBC Scotland
Last updated on .From the section Football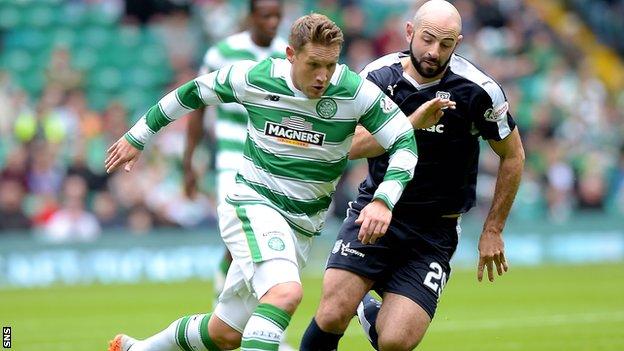 Playing Premiership matches abroad "could be part of an exciting future", says Scottish Professional Football League chief executive Neil Doncaster.
Doncaster says Scottish football should keep an open mind regarding any ideas that could help the game to grow.
"We owe it to everyone involved to look at what's possible and work through the ramifications," Doncaster said.
Talks between Celtic and Dundee are at an advanced stage, with Boston and Philadelphia potential host cities for a meeting of the sides next season. The clubs plan to put a formal proposal before the SPFL in the next few weeks.
"Certainly if we're talking about innovation, that is exciting innovation," Doncaster told BBC Scotland.
"I think there are all sorts of considerations that have to be worked through. The Premier League had similar plans south of the border a few years ago which ultimately came to nothing, but there is a demand there to explore it.
"Let's not have a closed mind to anything. Let's see how it could be part of an exciting new future for the game."
'We want something bigger and better'
The SPFL on Monday announced a revamped League Cup format for the 2016/17 season, including an initial group stage, penalty kicks after 90 minutes of drawn matches and bonus points for teams who win those shootouts.
A new television deal has also been agreed with BT Sport, worth in the region of £8m to Scottish clubs over four years.
Doncaster says the SPFL will continue to look at innovative ways to attract more fans, with a bigger league also catching his attention.
"We always want something bigger and better than we have at the moment," he said. "Hopefully with the changes we've announced with the League Cup we've delivered that, but the discussion will continue.
"If you look at Denmark they are currently bringing in a 14-team league from what was a 12-team league previously. Innovation in league football always continues all around the world and we're no exception."