SPFL insists clubs were aware of League Cup format change

By Richard Wilson
BBC Scotland
Last updated on .From the section Hearts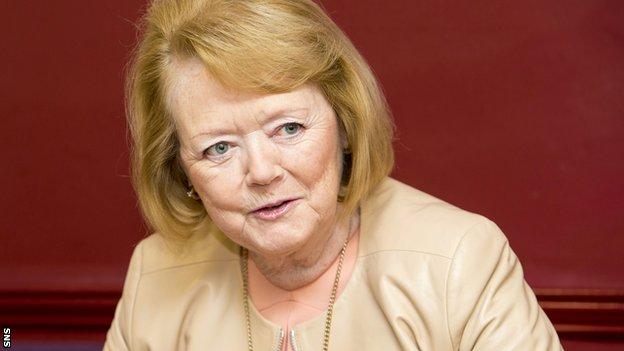 The SPFL insists all clubs were consulted before changes to the League Cup were made public.
Hearts owner Ann Budge had earlier said she only learned about the details of the changes hours before they were publically announced.
Budge's comments were echoed by Motherwell owner Les Hutchison.
However, the SPL said: "This subject was widely trailed at general meetings where both Hearts and Motherwell were present, over the past year."
Although welcoming the change, Budge said she has not yet had time to pore over the details and examine how they will impact on Hearts and other clubs.
"I would have liked to have known a little bit more about them before they were publicly announced," said Budge.
"I've had no longer to study them than you have. They were all things that were mooted before, but in terms of a total package being put together it wasn't something most of us were aware of.
"So I haven't had a chance to examine whether I think it's the right way forward.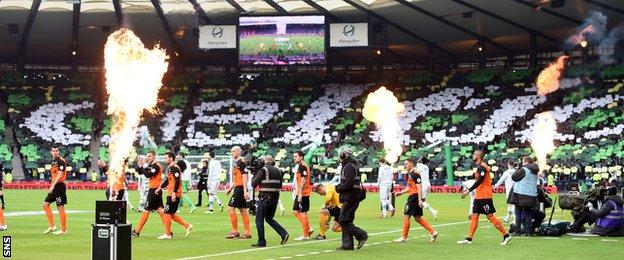 "I know it will influence clubs financially, potentially in contract terms with players, and the fact that we haven't had a chance to think these things through is a bit of a negative. In saying that, I'm all for change, we do need change.
"We've talked about a winter break, we've talked about summer football, this is the beginning of something.
"So I'm not saying it's wrong, just that I would have liked to have known more about it before it was announced."
The SPFL sent details of the League Cup revamp and additional changes to all 42 member clubs, in addition to the Highland and Lowland League organisations on Monday afternoon, several hours before they were announced in the media.
Budge added: "All of the clubs deserve an input into something that is quite so major. These are major changes. It's appropriate that all of the clubs be invited to participate and I will make that point.
"It is about more dialogue, more days like this [Scottish FA convention] so there is a better understanding of the wider issues. It's terribly easy to get drawn into your own club or organisational issues.
"So more sharing of information, more opportunity to discuss and debate and have sensible dialogue before decisions are made would be very helpful."

Hutchison was also unhappy that his club was not consulted about the new League Cup format.
"I would like to echo Ann Budge's comments, as I also found out about the planned changes by reading the BBC website," he said in a statement.
"We were not given time to review the impact of such changes on the summer transfer window, the financial impact of a two week winter break when club finances are at there weakest, the impact on pre-season player preparations for the new season and reduced player recovery time.
"The majority of clubs are run on very tight budgets and need time to review the financial impact of such significant changes."
In a statement, the SPFL defended its position and said clubs had approved the new plans as a series of meetings, with the first taking place last year and the final meeting on 5 October this year.
"We have received an overwhelmingly positive response to yesterday's announcement from the vast majority of clubs, as well as many supporters, partners and the media, and look forward to continuing to work together for the collective good of Scottish football," it added.