Marwin Hitz: Augsburg keeper billed for damaging penalty spot
Last updated on .From the section European Football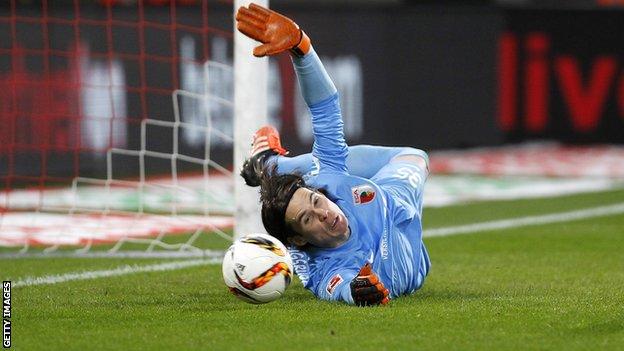 Augsburg goalkeeper Marwin Hitz has received a 122.92 euro (£89.15) bill from Cologne for damaging their penalty spot in a Bundesliga match on Saturday.
The 28-year-old scuffed up the spot as a decision to award a penalty to the home side was debated.
He then saved the spot-kick as Anthony Modeste lost his footing.
Hitz apologised for his actions during the 1-0 win but was then sent the bill, which covers the cost of a piece of turf and two hours' work to replace it.
The Switzerland international confirmed on Twitter that he will pay the bill and make a donation to a children's hospital in Cologne.
In addition, Augsburg are sending Cologne a club branded lawnmower to help with the repairs.