Steven Thompson backs more changes to SPFL set-up
Last updated on .From the section Football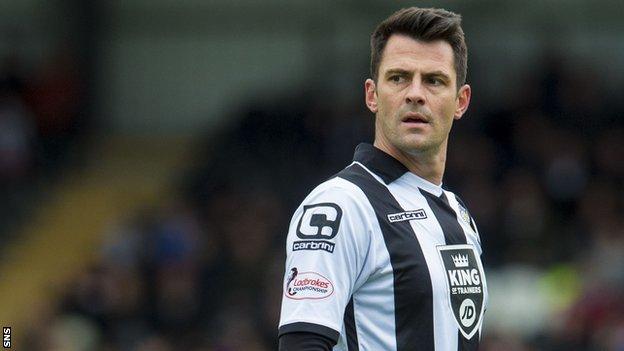 St Mirren striker Steven Thompson has backed the League Cup changes, but wants Scottish football chiefs to go further and restructure the whole league.
From next season the League Cup will include a group stage, with games starting as early as 16 July.
"I like the idea of starting the season earlier with competitive matches," Thompson told BBC Scotland.
"This is a step in the right direction."
The new changes announced by the Scottish Professional Football League also include a bonus point system where drawn games in the group stage will go directly to penalties, and a reintroduction of a two-week winter break in January.
Thompson, who won the League Cup with St Mirren in 2013, is in favour of summer football and an even longer winter break than the one proposed, as well as an increased number of teams in the top flight.
"I would move towards loading the fixtures through the summer and completely shutting down for a long period over the winter," he said.
"I think that would definitely help the product and bring more supporters through the doors.
"I personally have always been a fan of having a bigger league. I know there's arguments for and arguments against it. In my opinion it would be interesting for the fans, 100% more interesting for the players to be playing in a 16-team league against a bigger variety of sides, and there are teams in the Championship that are more than capable of stepping up.
"It can be monotonous at times as a player if you draw the same team in the cups and you're playing them four times a season anyway. You can end up playing the same team six times. I don't think the supporters want to see that and I know for a fact that players don't want to be doing that."
Thompson says competitive games will be welcomed by players, with pre-season friendlies often lacking a spark.
"I think quite often pre-season matches are a bit meaningless and often played with no tempo," he said. "Obviously they're going to have to be played with tempo now.
"The concern from a player's point of view is you might have to come back earlier to get up to scratch. It doesn't bother you when you're playing football. The amount of games you play doesn't bother me, I don't think it bothers many players.
"A shorter pre-season won't go down well, every player looks forward to their summer holidays, because bear in mind you work all year round and don't get much time off, especially around the Christmas period."