Scottish League Cup revamp: Reaction from within Scotland
Last updated on .From the section Football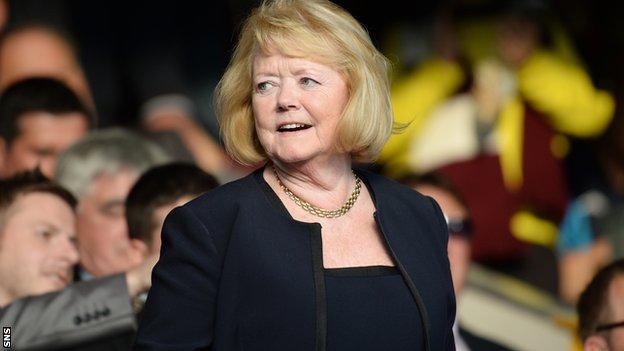 The Scottish Professional Football League's plans for a revamped League Cup, earlier start and winter break have brought mixed responses within Scottish football.
While the reviews have been mainly positive, some clubs have expressed concern at the lack of information they were given prior to a public announcement of the plans.
From next season the League Cup will start on 16 July with eight groups of five teams, with bonus points offered for a draw.
There will also be the reintroduction of a two-week winter break in January, something that had been a feature in the early years of the old Scottish Premier League.
Hearts owner Ann Budge
"I would liked to have known a little bit more about them (the changes) before they were publicly announced.
"I've had no longer to study them than you have. They were all things that were mooted before, but in terms of a total package being put together it wasn't something most of us were aware of.
"So I haven't had a chance to examine whether I think it's the right way forward.
"I know it will influence clubs financially, potentially in contract terms with players, and the fact that we haven't had a chance to think these things through is a bit of a negative. In saying that, I'm all for change, we do need change.
"We've talked about a winter break, we've talked about summer football, this is the beginning of something."
Motherwell owner Les Hutchison

"I actually read about it on the BBC website. I was surprised at the scope of changes being considered without clubs, club owners and fans being able to express some views and concerns, and also to allow us to plan for them and see what modifications might be necessary.
"It's a lack of communication that's happened on this occasion, but unfortunately that's been a fairly consistent theme. There seems to be significantly more dialogue between the central figures in the SPFL and the TV companies and sponsors.
"We are the biggest investors in the league and yet we were not fully consulted and certainly never provided any feedback because we didn't have the detail."
Ross County chairman Roy MacGregor
"It seems inventive and it deals with a movement towards at least playing a couple of weeks in July.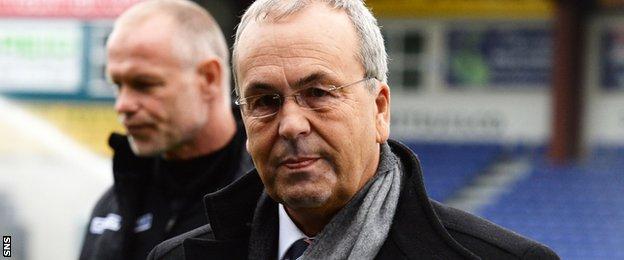 "It's a trial, although it's a four-year trial. I think it's more exposure and getting a couple of weeks off in January is probably welcome as well.
"There's a bit of learning and a bit of watching and interrogation to be done, but I welcome the opportunity that's happened and I think it's a good experiment.
"This is a bold and innovative approach and I think we'll learn a lot from it with regard to summer football.
"I welcome the fact that it's competitive games, because I think pre-season friendlies are a bit false nowadays.
"By regionalising it, we're going to get clubs that are within our own locality. I think that's a good thing."
St Mirren striker Steven Thompson
"I think quite often pre-season matches are a bit meaningless and often played with no tempo. Obviously they're going to have to be played with tempo now.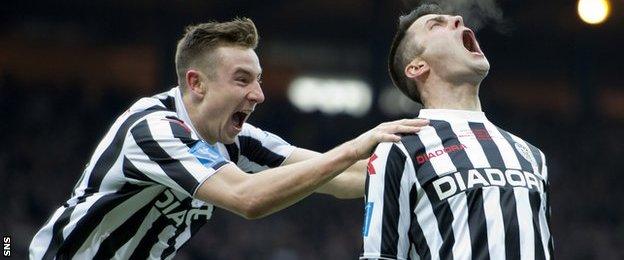 "The concern from a player's point of view is you might have to come back earlier to get up to scratch. It doesn't bother you when you're playing football. The amount of games you play doesn't bother me, I don't think it bothers many players.
"A shorter pre-season won't go down well, every player looks forward to their summer holidays, because bear in mind you work all year round and don't get much time off, especially around the Christmas period."
Dundee United midfielder John Rankin
"I'm really positive about the product. I think that it'll improve our game. From listening to the players in the dressing room there was a lot of excitement, it's something new.
"The older you get the less you want to play in the pre-season friendlies. They're horrible, you just want to get in and get started. It'll give the players a boost straight away because they're going into pre-season knowing they're only two or three weeks away from a competitive game, and I'm led to believe it won't actually extend pre-season by that much.
"Part-time players don't get paid until the season starts. I've friends who are older now and have dropped down the leagues and are playing part-time football, and they're excited by it because they see an extra income for their families throughout this time.
"The group stage in July is exciting. You're getting local derbies, we might get full houses, you're getting competitive games, and we're playing on a decent standard of pitch at that time of year."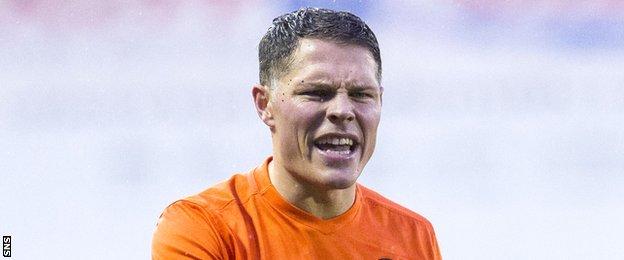 Inverness Caledonian Thistle supporter David Balfour, former "Caley Jags Together" chairman
"It's something I view positively without a doubt. It's something that need to be done. Something had to be tried to get crowd numbers up.
"I'd much rather watch a series of competitive games rather than meaningless friendlies.
"I would have liked to have seen an extended winter break, and see summer football embraced in this country. They do it in Scandinavia, they do it on other places, I don't see why they can't do it here.