Garry Monk: Swansea players must share responsibility
Last updated on .From the section Football
Swansea's players have to take a share of responsibility after the departure of manager Garry Monk, according to Ex-Wales winger Leighton James.
Monk left on Wednesday with the Swans 15th in the Premier League following one win in 11 league matches.
James says the players are as much at fault as the manager.
"Ultimately it's the players who have to take the blame because they are the ones who underperformed," he told BBC Radio Wales.
"They have not done themselves or the manager any credit."
Listen: 'Swansea players must 'look at themselves in mirror'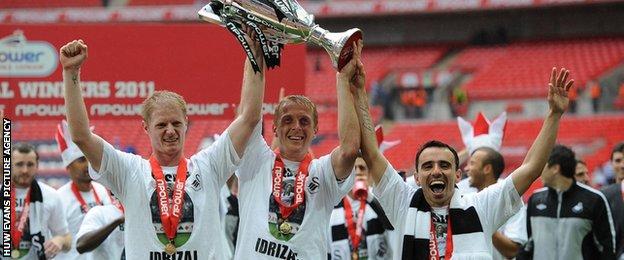 However, James, who played for Swansea in the old First Division under John Toshack in the 1980s, believes the club had no choice but to remove Monk.
"I just feel that the club has wasted four days," he added.
"Garry has taken training this week - what sort of message does that send to the players? I find it surprising because the performance on Saturday [in the 3-0 defeat by Leicester] was that bad that it merited action being taken there and then."
More reaction to Monk's departure
Monk's former Swansea team-mate Owain Tudur Jones has tweeted to say the Swans' ex-captain "deserved the chance to stay on and get @SwansOfficial out of trouble".
Match of the Day presenter Gary Linekertweeted: "Gary (sic) Monk has been sacked by Swansea, albeit 'very reluctantly'. What a business! #swansong"
The Swansea City Supporters' Trust, which owns a 20% stake in the club and has representation on the board, backed the decision to remove the manager, but paid tribute to Monk's contribution.
"The Trust wish to place on record its thanks to Garry for his time at Swansea both as a player and manager," its statement read.
"His commitment has been unquestionable and his contribution to perhaps the most successful period in the history of our football club will never be forgotten. The Swansea City Supporters' Trust sends him our best wishes for his future."