Storm Desmond: Koi Carp found in Carlisle's flooded goalmouth
Last updated on .From the section Football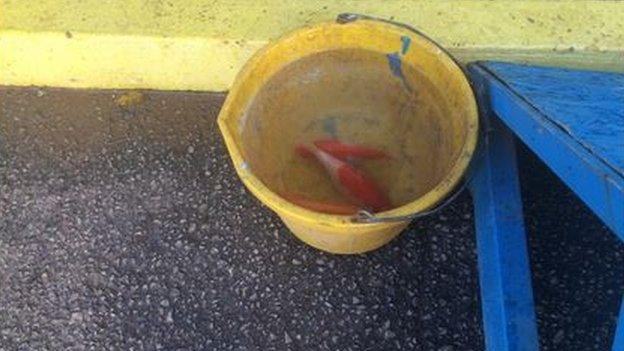 Two days after Carlisle United staff began the clear up of flooded Brunton Park, staff have made their most bizarre discovery yet - three Koi Carp swimming in the goalmouth.
Groundsman Dave Mitchell was helping repair the damage caused by Storm Desmond, which began on 4 December, when he found the fish at the Waterworks End of the League Two club's ground.
The storm flooded thousands of homes in Cumbria and Lancashire and causing widespread damage and power cuts.
Carlisle United tweeted a picture of the fish, adding "unbelievable".
Championship side Preston North End have agreed to host Carlisle's next home match against Notts County on 19 December, while the "daunting" work to clean up Brunton Park is carried out.
And Carlisle's players have been helping local residents affected by the record amounts of rain that fell on Cumbria last weekend.
Goalkeeper Dan Hanford found a commercial bin on top of his car, which had been submerged in the floods.
Storm Desmond: Rain causes further Cumbria flooding