Danny Batth: Wolves skipper helps out in tackling homelessness
Last updated on .From the section Football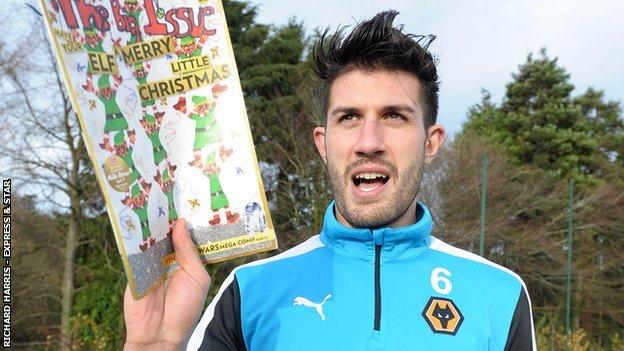 Like every professional footballer, Saturday afternoons are normally all business for Wolves skipper Danny Batth.
But Batth is a bit more than your average professional footballer.
This weekend, he has a rare Saturday off as Wolves' home game against Nottingham Forest at Molineux has been brought forward to Friday night.
And instead of spending the day Christmas shopping, he will be outside the Wolves club shop for a couple of hours on Saturday afternoon trying to sell the Big Issue, in an attempt to highlight the escalating problem of homelessness in this country - especially in the run-up to the festive season.
"When the fixture was moved to the Friday, it freed up the Saturday," the 25-year-old told BBC WM. "And, in the bigger scheme of things, it's only a few hours out of my time.
"As the winter draws in, hopefully it will have an effect and a positive influence on those people who are affected by being homeless."
According to a Cambridge University survey published in the summer nine per cent of young people in the UK slept in an 'outside place' in the previous year.
Batth added: "I'm like everyone else. I've walked past Big Issue sellers plenty of times, at the station or walking round the city centre.
"But people wrongly stereotype Big Issue sellers. They think they must have a drug problem or something.
"The majority are either homeless or struggling in life. They might just have lost their job at the wrong time. They are people trying to pull themselves out of rough times and have a better future.
"I've always wanted to do well for the whole area, not just the football club. And it would be nice to raise the awareness for maximum effect."
Other footballers who give their time...
Former Aston Villa captain Ron Vlaar spent this summer working with underprivileged children in remote areas of Bangalore.
Arsenal's German international Mesut Ozil donated his 2014 World Cup winnings to underprivileged children in the host nation Brazil.
Former Liverpool strikers Dirk Kuyt and Craig Bellamy have both created foundations in their names, which help children in developing countries.
Former Chelsea and Republic of Ireland winger Damien Duff asked for his wages to be donated to charity when he signed this summer for his hometown club Shamrock Rovers.
Former Scunthorpe United centre-half Sir Ian Botham - better known as an England cricketer - has spent 30 years raising money for leukaemia research with his many charity walks.