Women's Super League could 'implode' because of agents

Last updated on .From the section Women's Football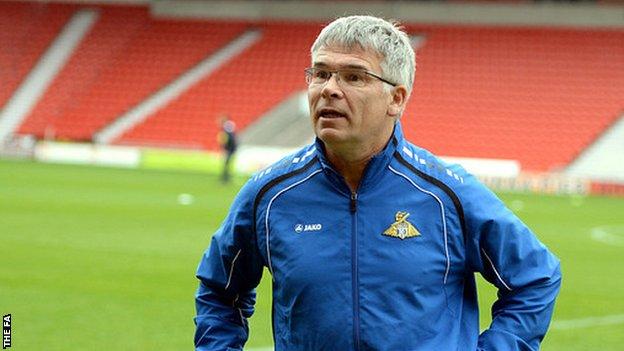 The Women's Super League could "implode" because of agents inflating transfer deals, according to Doncaster Rovers Belles manager Glen Harris.
In July, Chelsea signed Reading's Fran Kirby for a British record fee, thought to be between £40,000 and £60,000.
"Nearly every player I've spoken to this year has an agent," said Harris. "They are trying to put deals on the table that are unrealistic."
Harris said the way agents treat young players could be viewed as "grooming".
"I've seen evidence of players under 18, and who are still children, being approached inappropriately on social media," he said.
"My main area of concern, from a welfare side of things, is the vulnerability of some of the younger players.
"It could be perceived as grooming with these young girls.
"I can see that some players are going to be left high and dry, being signed up to agents who ask for unrealistic demands and the players could then end up without a team to play for."
Exploiting World Cup success?
Harris believes England's third-place finish at this summer's Women's World Cup has attracted even more representatives into the women's game, who are trying to "cash in" on their success.
"It's evolved since the World Cup very quickly and I think that's one of the reasons why agents have got involved," said Harris, who also previously managed former WSL side Lincoln Ladies.
He said some agents "don't understand where the game is at and where the financial ceilings are wages wise".
Harris added: "I've spoken with other people within the game and they feel, some strongly, that this could make it implode and make the WSL difficult to sustain if it's not regulated.
"If they go off inflating prices, then, as we've seen in other countries, the league could implode and become unsustainable.
"Having spoken to other clubs, that's the worry."
How much do players earn?
Leading WSL players, like England captain and Manchester City defender Steph Houghton, earn roughly £65,000 a year.
But not everyone earns that amount.
According to Professional Footballers' Association agent Matthew Buck, the percentage of players who can earn up to £65,000 is very small.
"The majority of centrally contracted players earn about £20,000 from their clubs, but there are players in the WSL who are on as little as £50 a week," said Buck, who represents many of the England squad.
"Some younger players get their university costs paid for by teams but many older players need to work second jobs or are also employed in other areas of their clubs."
What needs to happen?
Harris says the Football Association must do more to regulate agents, so transfer fees do not rise too quickly and younger players are protected.
"We want the game to evolve and we want players to be able to become professional and to earn a living, but it needs to be done in a realistic manner," he said.
"The WSL is a great product. We don't want it to implode, we want it to grow and to have a career path for young girls and potential female coaches, but it needs to be properly managed."
Harris said there needed to be a "safety net in place" to look after the under-18s and the vulnerable players.
He fears some of them may "believe everything that they're told" and then find their potential earnings are "gobbled up by agents".
What do the FA say?
An FA spokesperson said intermediaries provide important support, but said their activity must comply with FA regulations.
"We would ask anyone who has identified any breaches of these regulations to report this officially to us. To date we have not received any official complaints in relation to the specific matter identified in the report."