Celtic: Ronny Deila insists side lack experience but aren't afraid
Last updated on .From the section Football
Ronny Deila insists his inexperienced Celtic side are not afraid to perform on the European stage.
Following their Europa League exit and dropping out of the Champions League, midfielder Stefan Johansen said Celtic have appeared "afraid" this season.
However, Deila said: "I think that frightened is the wrong word; it's experience that's important.
"You need to play games like we did (against Fenerbahce) with a different atmosphere and way of playing."
Despite drawing 1-1 in Istanbul, Celtic finished bottom of Group A and without a win from their campaign.
"We obviously need to try more - we look a bit afraid when it comes to the pressure," Johansen told BBC Scotland.
"Hopefully we can get that off our shoulders and play better next year."
Johansen accepts the youthful Celtic squad need to acquire more nous for the rigors of European football.
Paul Brennan, Celtic blogger
"It's a very big concern. Celtic really have to be hitting Champions League football regluarly. His [Ronny Deila's] failures to do that in the first two seasons and lack of progress in the Europa League group stages this season really counts against him.
"Apologies count for nothing. There has to be a big decision to be made. If we have significant plans for the transfer window and the club have faith in those then my expectation is he will be given January and the second half of this season to see where he takes the club."
"This is behind us now and we can't dig ourselves into the ground. We need to step up, we're still in two cups in Scotland and still in front in the league - it can still be a good season for us."
Stating that the players "need to apologise to the fans", the 24-year-old felt Celtic, whose elimination was confirmed prior to the Fenerbahce draw, acquitted themselves well in Istanbul.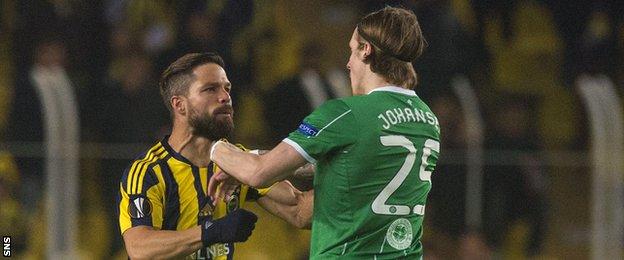 "It was a tough game, we knew that they still had the chance to go through, but 1-1 against a good team, it's okay," said Johansen.
"But, at the end of the day, we are of course disappointed that we didn't have the chance to come here and play to get through. We just haven't been good enough in Europe.
"They're a top quality side with good players, but I think we showed we have the work-rate back.
"We were compact as a team and we didn't give them many chances. Of course the passing could be better but we will work on that."
Arriving back in Glasgow on Friday, Deila said focus returned to domestic matters and Sunday's trip to St Johnstone.
"Sunday is maybe going to be one of the hardest games and we're going to fight hard for those points," he said.
"It's too early to talk about the treble with so many games to play. We have to take one game at a time. We saw last year how difficult it was and history has shown the same."