Hearts 'not alone' in frustration with League Cup announcement

By Richard Wilson
BBC Scotland
Last updated on .From the section Football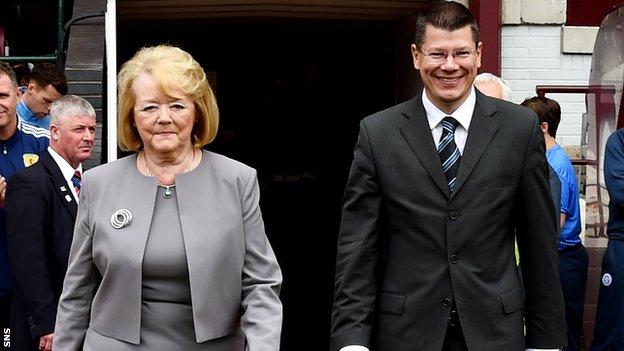 Hearts have received support from "a number of other clubs" following owner Ann Budge's criticism of how Scottish League Cup changes were announced.
Budge was dismayed that full details of the changes to the tournament format and calendar were revealed to clubs hours before they were made public.
The Scottish Professional Football League say all clubs were consulted.
But Budge insists some of Hearts' fellow member clubs "share our dissatisfaction with the process".
The SPFL announced on Monday night that next season's League Cup will begin with a regionalised group stage and bonus-point system and changes to its format mean the Scottish Premiership can have a two-week winter break.
A working group had been set-up to make recommendations to the SPFL board, but BBC Scotland believes clubs not represented on that board did not receive a full breakdown of the changes until Monday afternoon.
Budge expressed her disquiet that more clubs were not granted an influence on the decision and that she "would have liked to have known more about it before it was announced".
Following a meeting of Premiership clubs in September which Hearts attended, a broadcasting deal with BT for the League Cup was approved, which included a group stage but no detail on how it would be formatted.
Now Budge has asked why Premiership clubs represented on the SPFL board - Aberdeen, Celtic and Dundee United - did not consult and inform the clubs they represent ahead of the public announcement.
"The key factors underlying this difference of opinion centre around two questions," the Hearts owner said in a statement.
"Firstly, what is the purpose of setting up working groups if their findings and recommendations are not to be shared with all member clubs?
"Secondly, to what extent is it the responsibility of league representatives on the SPFL board to keep the member clubs they represent fully briefed on key discussions/decisions; and indeed, to what extent should they consult the member clubs before casting a vote, ostensibly on their behalf?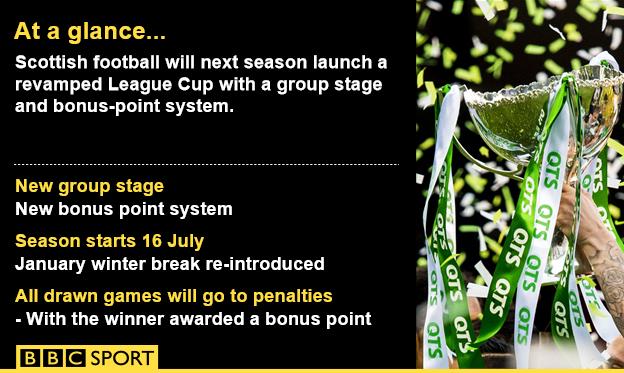 "I would emphasise that I am not alone in expressing surprise and disappointment that no final discussion/briefing on this matter took place with those member clubs who were not involved in the working group and do not have seats on the SPFL board.
"There was widespread expectation that such a meeting would take place before any public announcement.
"We have been contacted by a number of other clubs, over the past 48 hours, who have expressed the view that they share our dissatisfaction with the process.
"They absolutely expected a meeting to enable full understanding of the implications of the proposed format, prior to any announcement being made. Those who have contacted us include individuals who were themselves on the working group."
Communication 'poor'
Budge, who was awarded the Women In Football's Club Best Practice award on Monday, maintains her remarks were about the process and not a negative response to the changes themselves.
"At no time did I state anything negative about the proposals," she added.
"I would stress, however, that contrary to what has been reported, Hearts did not have a representative on the working group.
"In terms of detail in the [SPFL] press statement, I would take issue with comments, such as: 'all 42 clubs were again fully consulted on the considerations and recommendations of the working group' and 'all clubs were given a detailed update on intentions for the Scottish League Cup'.
"I stand by my conviction that clubs must speak out if they are unhappy with how decisions are being made and communicated. I also believe that the SPFL must address the fact that, whether real or perceived, there is a widely-held view that communication between the SPFL and its members, is poor.
"Poor communication was one of the main findings of the Deloitte strategy review discussed at the SPFL Board meeting in August 2014. The board agreed at that time to establish seven working groups to address the key recommendations in the Deloitte report.
"One of those working groups was the competition working group involved here; another was to address communications. Hearts is represented on the communications working Group. As of today, more than a year later, there have been no meetings of the communications working group."