Juan Angel Napout: Fifa vice-president resigns from Conmebol
Last updated on .From the section Football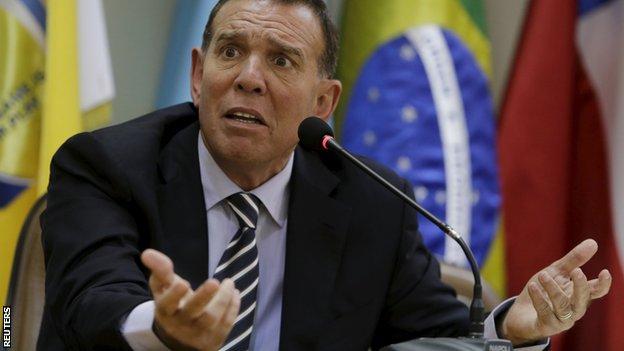 Fifa vice-president Juan Angel Napout has resigned as president of Conmebol, South America's football confederation.
Napout, 57, was arrested in Zurich at the request of US authorities last week and is currently banned from football.
He was arrested at a hotel along with fellow Fifa vice-president Alfredo Hawit, 64, on suspicion of accepting millions of dollars of bribes.
Uruguay FA chief Wilmar Valdez will replace Napout as interim Conmebol president until January.
Napout and Hawit, the interim president for North, Central America and Caribbean football, were among 16 current and former senior football officials indicted on 4 December by US authorities investigating corruption in the organisation.
The US Department of Justice alleges the 16 were involved in "racketeering, wire fraud and money laundering conspiracies" that saw them solicit and receive "over $200m (£132m) in bribes and kickbacks".
The total number of individuals and entities - such as sports marketing companies - charged to date is now 41. Of those, 12 individuals and two sports marketing companies have already been convicted as a result of the ongoing investigation.
Napout was elected as Paraguayan Football Association president in August 2007 and served until 2014, when he took over the Conmebol presidency on an interim basis.
He was elected to the Conmebol presidency on a permanent basis in March and was expected to serve until 2019.
"With the resignation of Mr Juan Angel Napout as president, the congress was convened for the election of officers [president and vice-presidents] for 26 January 2016," a Conmebol statement read.
Colombian football federation chief Luis Bedoya and his Colombian counterpart Sergio Jadue resigned their positions as Conmebol vice-presidents after pleading guilty to racketeering conspiracy and wire fraud.
The latest 16 football officials indicted by US authorities
Alfredo Hawit - Fifa vice-president and Concacaf president

Ariel Alvarado - Fifa disciplinary committee member and former Panamanian football chief

Rafael Callejas - former president of Honduras - and its football association

Brayan Jimenez - Guatemala FA chief and member of the Fifa committee for fair play and social responsibility.

Rafael Salguero - Former Fifa executive committee member and Guatemala football chief

Hector Trujillo - general secretary of Guatemala FA

Reynaldo Vasquez - former El Salvador FA president

Juan Angel Napout - Fifa vice-president and Conmebol president

Manuel Burga - Fifa development committee member and former Peru FA president

Carlos Chavez - Conmebol treasurer

Luis Chiriboga - Ecuador football president

Marco Polo del Nero - Brazil football president

Eduardo Deluca - former Conmebol general secretary

Jose Luis Meiszner - Conmebol general secretary

Romer Osuna - Bolivian Fifa audit and compliance committee member

Ricardo Teixeira - former Brazil FA chief