Ann Budge: Hearts owner 'wants best for Scots game' - Neilson
Last updated on .From the section Football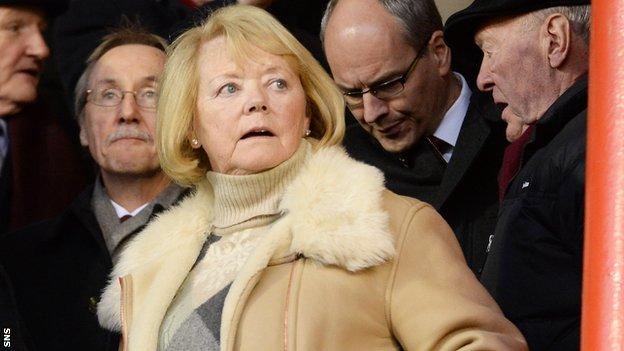 Head coach Robbie Neilson believes that Hearts owner Ann Budge had the best interests of Scottish football in mind when she criticised league bosses.
The Scottish Professional Football League said Hearts were represented at meetings where it had been discussed.
"The statement she put out over the last week is about trying to better Scottish football," said Neilson.
"And that's what we all should be doing."
Budge had welcomed the changes, which will introduce a group stage to the League Cup and a winter break to the SPFL.

But she said the Edinburgh club would have liked more time to consider the implications, with her comments being echoed by Motherwell owner Les Hutchison.
Budge, who took control of Hearts last year, failed with an attempt to be elected to the SPFL board in July.
Asked ahead of kick-off against Aberdeen if her latest statement was an attempt to assert some influence, Neilson told BBC Scotland: "I don't think she is baring her teeth at all. Ann's just speaking the truth.
"Everything she has done or said since she has come in at Hearts has been for the good of Hearts and the good of Scottish football and she will continue to do that.
"Whether it comes from somebody who has been in Scottish football for 30 years or someone who's been in it for 18 months, it's about progressing and that's what we'll try to do at Hearts and hopefully we'll do that in Scotland as well."