Europa League draw: English clubs to learn Euro fate on Monday
Last updated on .From the section European Football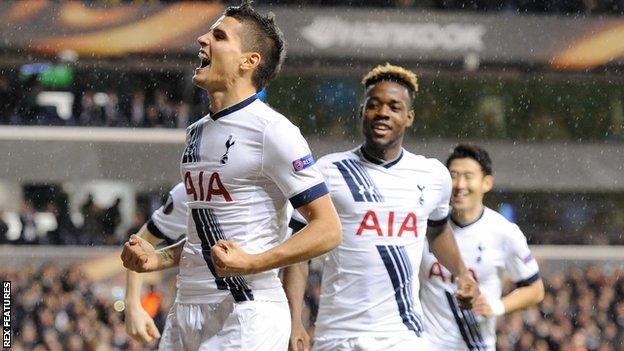 Europa League last-32 draw
Date:
Monday, 14 December
Venue:
Nyon, Switzerland
Time:
12:00 GMT
Coverage:
Live text coverage on the BBC Sport website.
Liverpool, Tottenham and Manchester United will learn who they face in the last 32 of the Europa League on Monday.
Spurs and Liverpool qualified after winning Group J and B respectively, while United finished third in their Champions League Group B.
They are all seeded and will play one of 16 unseeded sides - made up of 12 group runners-up and four of the teams eliminated from the Champions League.
United could be drawn against Gary Neville's Valencia of Spain.
How is the draw structured?
The draw takes place at the headquarters of European football's governing body Uefa in Nyon, Switzerland, at 12:00 GMT.
There are two pots - 16 seeded sides and 16 unseeded sides. All three English clubs are seeded, which means they will be at home for the second leg.
No team can play a club from their Europa League group, or a side from the same association. According to a Uefa ruling, clubs from Russia and Ukraine cannot be drawn to play each other.
Who could the English sides face?
Of the 16 unseeded sides English clubs could face, 12 are Europa League group runners-up, and four finished third in their Champions League groups.
The other four teams who finished third in the Champions League group stages finished with higher points totals or goal difference, and are seeded.
The 16 unseeded teams are: Fenerbahce, Sion, Borussia Dortmund, Midtjylland, Villarreal, Marseille, St Etienne, Sporting Lisbon, Fiorentina, Anderlecht, Sparta Prague, Augsburg, Sevilla, Valencia, Galatasaray and Shakhtar Donetsk.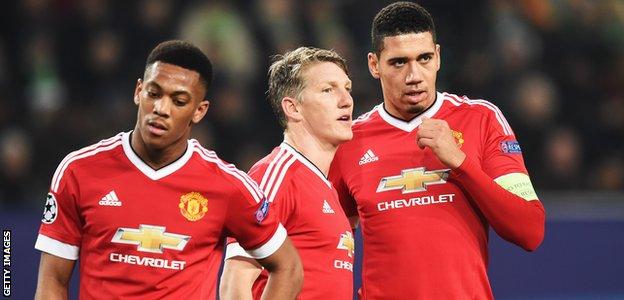 The four who were eliminated from the Champions League are Ukraine's Shakhtar Donetsk, Galatasaray of Turkey, and Spanish clubs Sevilla and Valencia - where former Manchester United defender Neville is manager.
The 16 seeded teams are: Molde, Liverpool, Krasnodar, Napoli, Rapid Vienna, Braga, Lazio, Lokomotiv Moscow, Basel, Tottenham Hotspur, Schalke, Athletic Bilbao, Porto, Olympiakos, Manchester United, Bayer Leverkusen.
The four who were eliminated from the Champions League are Germany's Bayer Leverkusen, Greek club Olympiakos, Portugal's Porto, and Manchester United.
When will the ties take place?
Uefa says the first legs will be played "in principle" on 18 or 25 February at 18:00 or 20:05 GMT but it will confirm the exact dates after the draw.
The second legs are scheduled for 10 and 17 March.
What they say...
Liverpool manager Jurgen Klopp: "There are a lot of good teams in second place and also teams from the Champions League.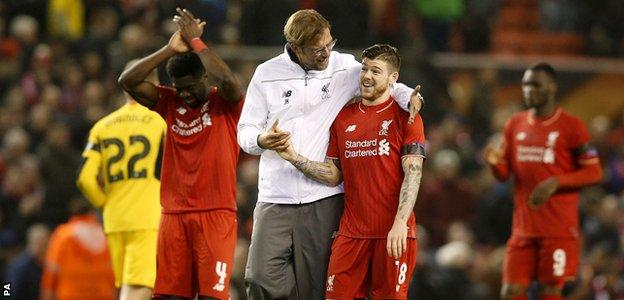 "Everyone will have to change their mind about this tournament now as everyone will see it is something like a small Champions League."
Manchester United manager Louis van Gaal: "I have already won the Europa League with Ajax in my first season, and I was very proud of that.
"For me, the Europa League is a big competition."
Tottenham manager Mauricio Pochettino: "It was important to win the group because we wanted the possibility to finish the tie at White Hart Lane.
"It will be first leg away and the second at home. It was the opposite way that we played last season against Fiorentina. That is important for us."