Garth Crooks' team of the week: Giroud, Ozil, Hart, King, Bolasie

By Garth Crooks
Football analyst
Last updated on .From the section Football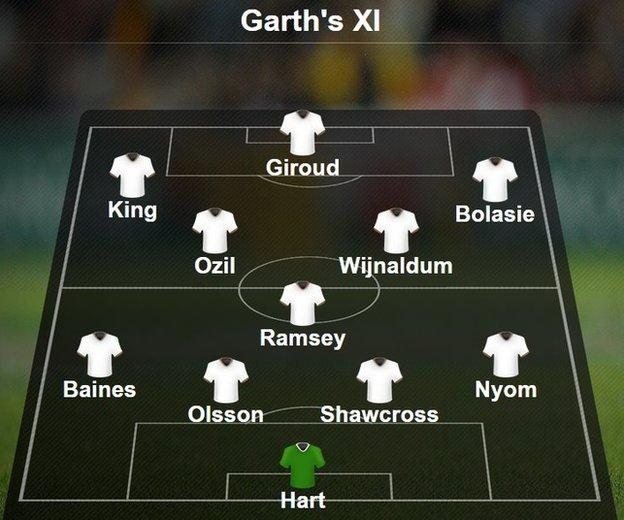 Plenty of late drama, shock victories and the lead at the top of the table changing hands twice - a normal action-packed weekend in the Premier League then.
Manchester City replaced previous leaders Leicester with a last-gasp winner against Swansea on Saturday, before Arsenal climbed above both sides with Sunday's victory at Aston Villa.
Leicester can move back to the summit on Monday by beating Chelsea, who dropped to 15th - a point from the bottom three - after surprise wins for Bournemouth and Newcastle against Manchester United and Tottenham respectively.
But who stood out? Here's who I've selected in my team of the week...
Goalkeeper - Joe Hart (Manchester City)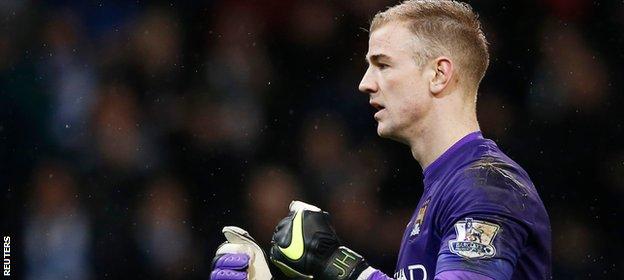 Even Joe Hart said Manchester City were awful in the dramatic 2-1 home win against Swansea - which is probably why he was so incredibly busy. To be fair to City, they had beaten Borussia Monchengladbach in the Champions League in midweek so getting the three points, even though they weren't pretty, was the priority.
Meanwhile, managerless Swansea deserved a point from this game. While owner Huw Jenkins (who doesn't often get it wrong) ponders over Garry Monk's successor he should take a good look at Sean Dyche who continues to work miracles at Burnley on a shoestring budget. Some things just feel right.
Defender - Allan Nyom (Watford)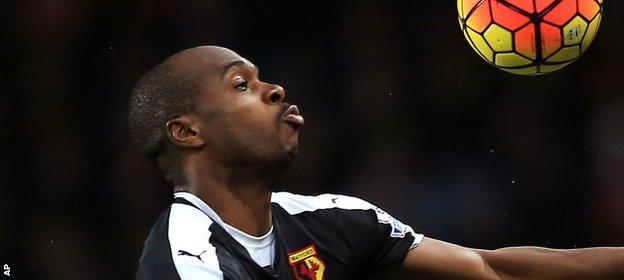 The game against Sunderland was only four minutes old when Cameroon defender Nyom raced down Watford's right-hand side on to a lovely through-ball to set up Odion Ighalo's 10th goal of the season.
In addition to this assist, there was a wonderful moment in the match when Jermain Defoe enticed Nyom to stick a leg out in the penalty area. But the full-back, a summer signing from Udinese, cleverly resisted the bait and stood up.
Defoe continued his run and forced a save out of Heurelho Gomes but, most importantly for Watford, did not win a penalty. A clean sheet by Watford but that was a match-winning decision by Nyom if ever I saw one.
Defender - Ryan Shawcross (Stoke)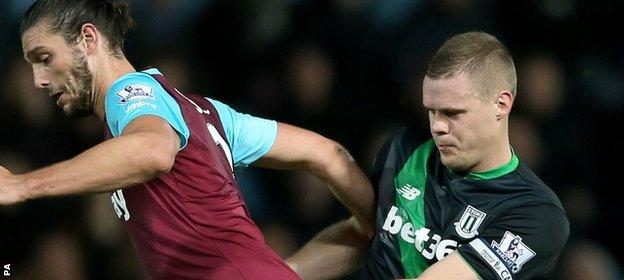 There is a generation of Stoke fans who will remember the club's greatest-ever manager Tony Waddington. He created what was affectionately termed in those days as the 'Waddington Wall'. The wall comprised Gordon Banks, Jackie Marsh, Denis Smith, Alan Bloor and Mike Pejic.
The statement was a simple metaphor for describing an exceptional defensive unit or what Jose Mourinho would disparagingly call 'parking the bus'.
It would appear Stoke's latest manager Mark Hughes has recreated that famous wall and made Ryan Shawcross its main pillar. The Potters kept another clean sheet against West Ham in what was the best 0-0 draw I've seen for years. Provided Shawcross remains fit, Stoke look in good shape. However, if their captain were to get injured again, the whole thing just might collapse around them.
Defender - Jonas Olsson (West Brom)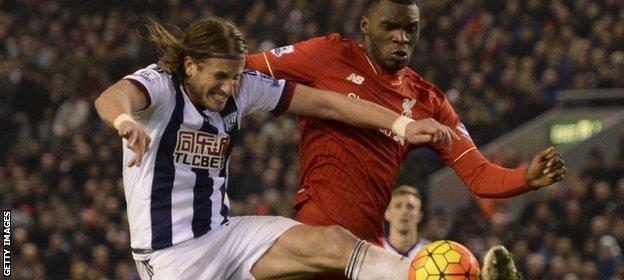 West Brom were really unfortunate not to come away with all three points against Liverpool, with Jonas Olsson at the heart of an impressive performance for the Baggies.
I thought the centre-half had scored the winner with a fabulous volley that, after some debate, was ruled offside. Then I thought he had won the match a second time with a superb header from another set piece but Liverpool equalised with a cruel deflection.
Liverpool were so relieved in the end that manager Jurgen Klopp went to the Kop to celebrate the point.
Defender - Leighton Baines (Everton)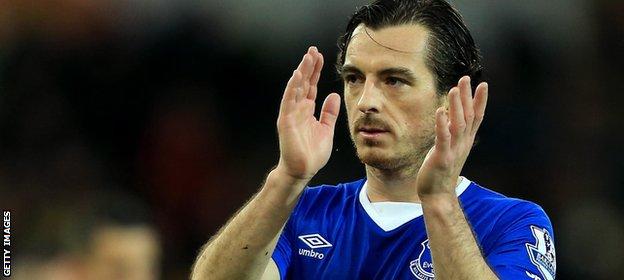 Everton should have won this 1-1 draw against Norwich by a street. I don't think I've seen a Premier League team this season take such a first-half battering as Norwich did.
Nevertheless there are signs the Toffees are starting to look like they did when Roberto Martinez first arrived at Goodison Park and so is Leighton Baines.
His right-foot shot that flew past Declan Rudd and thundered against the post was so indicative of the full-back who loves to attack. With Manchester United's Luke Shaw injured and the European Championship around the corner, Baines' welcome return to fitness will suit both Everton and England.
Midfielder - Aaron Ramsey (Arsenal)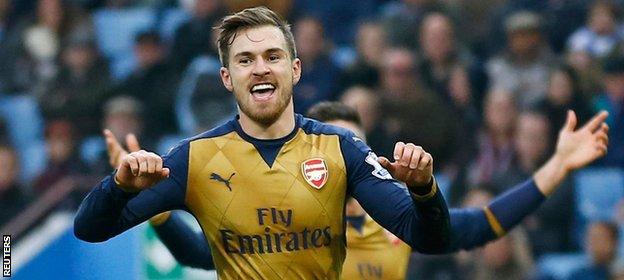 I find it quite interesting that Aaron Ramsey is starting to look at his best again without the presence of injured pair Alexis Sanchez and Santi Cazorla.
There is no doubt in my mind that the Wales international features far more in Arsenal's build-up play when they are not around. And on this display, against an utterly outclassed Aston Villa, he looked imperious.
When both Sanchez and Cazorla come back into the fold it will be very interesting to see if he can retain the commanding presence he showed at Villa Park.
Midfielder - Georginio Wijnaldum (Newcastle)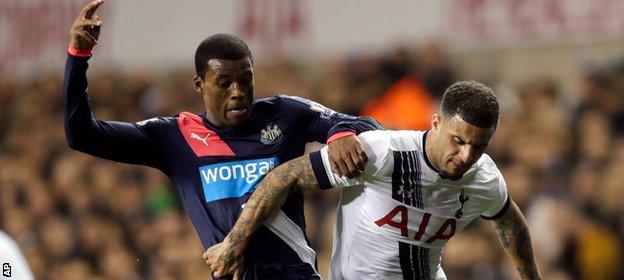 Back-to-back wins for Newcastle United suggests the revival under Steve McClaren is official.
The Magpies have been through some difficult times recently. However, it would seem that ex-England boss McClaren now has his players on side.
Arguably their most influential player at the moment is Georginio Wijnaldum. The Dutchman's seven league goals have been invaluable this season, but against a disappointing Spurs so were his assists. The move that set up Newcastle's winner was a beautiful lofted ball from Wijnaldum, when nothing else seemed on. A player with a lot of talent.
Midfielder - Mesut Ozil (Arsenal)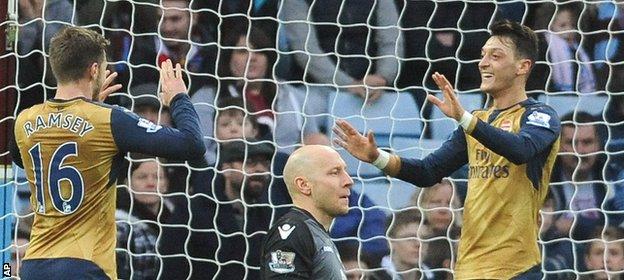 This was simply men against boys. Arsenal never got out of third gear against a lamentable Aston Villa. One of the reasons Villa struggled was that at no stage were the home side prepared to stand up the Gunners.
This played straight into the hands of Mesut Ozil, who was magnificent again for Arsenal. He constructed their second goal with his usual dexterity as he casually laid the finish on a plate for Aaron Ramsey.
The Germany international's performance prompted Arsenal manager Arsene Wenger to state in his post-match interview that he is the complete player. I'll say - it's Ozil's 13th assist this season for the Gunners. Unlucky for Villa.
Winger - Yannick Bolasie (Crystal Palace)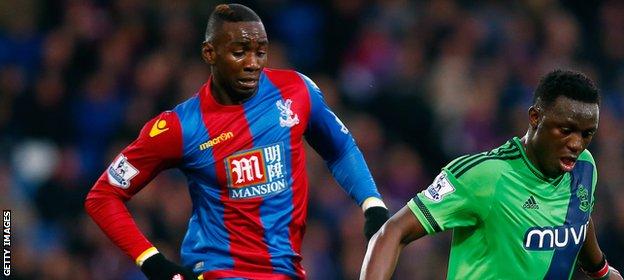 This player was like an electric eel in Palace's 1-0 win against Southampton. He tantalised the Saints from start to finish and it took a wonderful save from away keeper Paulo Gazzaniga to stop the forward from adding to Crystal Palace's tally. And Bolasie's mesmerising run created the opportunity for Yohan Cabaye to score the first-half winner with a side-foot finish.
If Bolasie keeps playing like this, it's going to present Alan Pardew with a real problem - keeping hold of him. A player like Bolasie would be the perfect partner for Harry Kane at Spurs. Now there is an exciting proposition.
Winger - Joshua King (Bournemouth)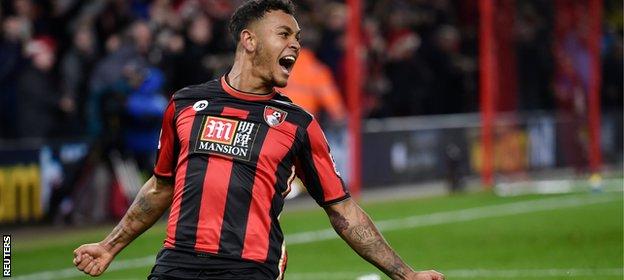 Bournemouth manager Eddie Howe said he had "never seen a week like it" and he is right. Having beaten Chelsea the week before, Bournemouth took complete advantage of an injury-hit Manchester United - and former Red Devils youngster Joshua King in particular was the star of the show.
From the opening minutes of the game King seemed determined to prove a point to the team that let him go - and he made a number of them. His energy and commitment were a feature throughout the game and his goal was well deserved for his efforts.
As for Manchester United, when a manager prefers to start a match with inexperienced youngsters over top-class internationals you have to ask yourself why. Could it be that some of United's big names players (rather like their fans) simply don't believe in the manager's philosophy any more?
Forward - Olivier Giroud (Arsenal)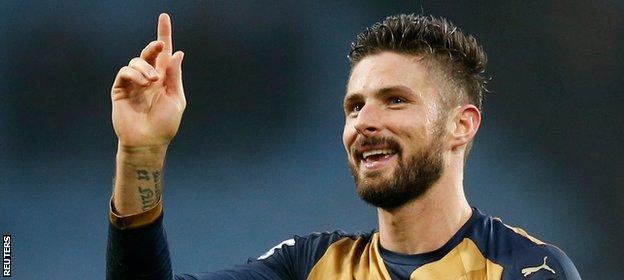 Now here is a man in form. The way he brought down the ball from Nacho Monreal in the second half against Aston Villa gave you a sense of how confident Oliver Giroud has become these last few games.
The Frenchman had already converted the penalty for Arsenal by this stage in the game and looked majestic throughout. Just why there was even a debate about who should play upfront for Arsenal when Theo Walcott was insisting he should play there, I really can't comprehend.
There's only one man to lead the line for Arsenal and that is Oliver Giroud.