Jose Mourinho: Chelsea boss feels work was 'betrayed' by players
Last updated on .From the section Football
Chelsea manager Jose Mourinho said he felt his "work was betrayed" following his side's 2-1 defeat by Premier League table toppers Leicester City.
The defending champions suffered their ninth league loss in 16 games as Jamie Vardy and Riyad Mahrez scored for the Foxes at the King Power Stadium.
It leaves the Blues in 16th position, just a point above the relegation zone.
"One of my best qualities is to read the game for my players and I feel like my work was betrayed," said Mourinho.
"One possibility is that I did an amazing job last season and brought the players to a level that is not their level and now they can't maintain it."
Too good to go down?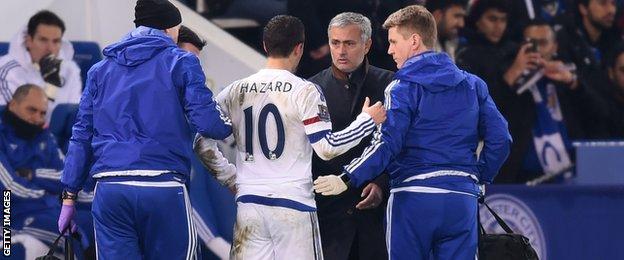 Chelsea only lost three times last season as they cantered to the title by eight points from Manchester City.
They now find themselves at the wrong end of the table and come up against second-bottom Sunderland on Saturday.
"I accept we are in the relegation zone, but I don't accept we are in a relegation battle," said Mourinho.
"You look at the table and we are there, but you think you are in a relegation battle if you think you are there for three or four months. I don't think that."
Top four out of reach
Mourinho said he had "no complaints" with his players in training but said it was "frustrating" to see "what they do in matches".
The Portuguese also said the Champions League spots were now out of reach.
"We can't finish top four, but we can still finish top six because so many teams are dropping points," he said.
"At the moment, we are in a zone where I feel ashamed."
'I want to stay'
Chelsea's poor form this campaign has inevitably led to questions about Mourinho's future, but he is adamant he will continue.
"The only thing I can say is that I want to be the manager," he added.
"I have no doubts and I think you know me well enough to know that I am not afraid of a big challenge and in this moment it is a really big challenge.
"I want to stay and I hope Mr Roman Abramovich and the board want me to stay because I want to stay."
Hazard 'clearly injured'
PFA Player of the Year Eden Hazard has been unable to replicate last season's superb form, failing to score so far.
He lasted just half an hour on Monday, substituted following a challenge by Vardy.
"He made the decision to come off, so it must be a serious injury," said Mourinho.
"His first reaction was 'I can't continue', his second reaction was 'I want to try', but after his first step back on the pitch he said he couldn't. He's injured clearly."