Ricky Weir: Jersey would host internationals, says ex-FA boss
Last updated on .From the section Football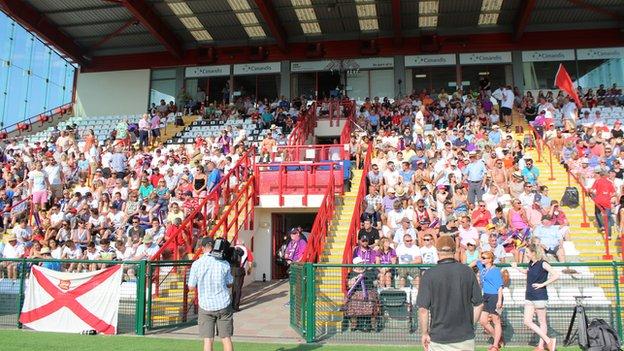 Former Jersey FA president Ricky Weir says he has "no doubt" that the island would host international games if its application to join Uefa is successful.
Gibraltar, who were admitted to Uefa in May 2013, play qualifiers in Portugal as their current 5,000 capacity stadium does not meet Uefa's standards.
Jersey's largest ground is Springfield, which holds around 7,000 spectators.
"I am absolutely convinced that Springfield would be the place," Weir told BBC Radio Jersey.
"We certainly wouldn't want to be going over to let's say (Southampton's home ground) St Mary's and playing there.
"There may be some additional enhancements that need to be done but I'm convinced that those would take place."
Weir also said he believes a future Jersey national side may be helped by a new structure which could see lower-ranked nations avoid playing more established teams.
"A two-tier structure has been mooted in the past, whereby countries such as Andorra and San Marino, and hopefully one day Jersey, are regularly competing against each other - perhaps for the right to play with the bigger boys.
"There's a clear argument from the bigger nations themselves that they see a lot of those games against the smaller teams as not particularly purposeful.
"You will help your development speed even more if you're playing similar teams regularly, rather than really going out and trying to keep the score down."